From Superheroes to Wizardry - 9 Must-See Movies for 2016
Posted by Amanda

May 10, 2016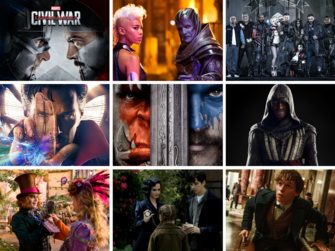 Every year brings its promises of upcoming movies that will thrill their audiences. 2016 is no exception. Aficionados of super heroes, video games and wizardry/occult will not be disappointed this year – they will be rewarded with at least nine movies to feed their appetites for adventure, excitement and just plain weird.
The Superhero Movies Collection
Captain America: Civil War
Okay. So Captain America and Iron Man are on the same side, right? Not so fast. Now that the collateral damage of their previous exploits have become a concern for the government, that same government wants some oversight over what they do and how they do it. To Captain America, this seems reasonable; to Iron Man, it does not. What begins as an argument turns into a "battle royale," and their comrades are put in the middle, all the while trying to take on major battles to save humanity once again.
Chris Evans as Captain America and Robert Downey, Jr. as Iron Man give their expected stellar performances in this latest Marvel Cinematics Universe thriller. This has been one of the most anticipated films of 2016.
Release Date: May 6, 2016
X-Men: Apocalypse
After a globally-acclaimed "X-Men: Days of Future Past" in 2014, director Bryan Singer has returned with a sequel. This tale pits the mutants against an ancient mutant, Apocalypse, who has awakened and now has plans to conquer the world. Apocalypse, worshipped as a god, has been in hibernation for thousands of years, and now awakened, is distraught and disgusted by the world he sees today. He and four followers set about the task of destroying civilization and beginning again. Raven and Charles Xavier must lead the young X-Men to defeat Apocalypse.
Much of the previous cast returns for this 20th Century Fox Entertainment thriller, including James McAvoy as Charles Xavier, Michael Fassbender as Magneto, and Jennifer Lawrence as Mystique. And here's a bit of a news flash for fans of the X-Men series. The Blob will return, though exactly in what capacity remains a secret. And Hugh Jackman, of earlier super hero fame, will return in his role as Wolverine, but his purpose is a secret for now as well. Oscar Isaac plays Apocalypse.
Release Date: May 27
Suicide Squad
Based on a DC comic book and TV series, the world's worst supervillains become reluctant heroes in this Warner Brothers production. A secret government agency is giving death row villains a shot at redemption by taking on a mission that could easily result in their deaths. The carrot? Commuted sentences.
Most of the plot details are not yet known, which makes the anticipation even greater. We do know that the actors in this weird "work-release program" include Will Smith as Deadshot, Ben Affleck, Jared Leto as the Joker, Margot Robbie, Jai Courtney, and a rather full lineup of others.
Release Date: August 5
Doctor Strange
A brilliant, but narcissistic and arrogant surgeon's career is destroyed, and there seems to be no path to redemption. Unless, of course, a beautiful sorceress intervenes and offers him redemption by fighting evil in the world. Not much else is known about the Universal Studios production, other than director David Ayer has confirmed that production is over, and that it is expected to be a huge hit. Starring Rachel McAdams as the sorceress and Benedict Cumberbatch as Dr. Strange, this movie will be a mixture of action, adventure and fantasy.
Release Date: November 4
The Video Game Collection for 2016
Warcraft
Movies based on video games will always have a great draw among gamers. Lovers of "Warcraft," take note. Universal Studios will release a full length feature film this summer. It seems that Azeroth is facing a war and the potential of full destruction at the hands of Orc warriors, who are fleeing their dying world and looking for a new one to colonize. When the portal between the two worlds opens, it's on, each world being led by its own superhero.
Originally scheduled for release, Director Duncan Jones and Universal decided on a postponement because of the "Star Wars" release.
Starring Travis Fimmel, Ben Foster, Paula Patton among others, look for this movie premier this summer.
Release Date: June 10
Assassin's Creed
Callum Lynch (played by Michael Fassbender) decides to research his ancestry, and, through a new technology, is able to unlock his genetic history, all the way back to ancestor Aguilar, from 15th century Spain. He discovers that he is a member of a secret society, The Assassins, and is now endowed with the skills and knowledge to fight the Templar organization of today.
This 20th century Fox production stars Fassbender who managed to lobby for director Justin Kurzel and co-star Marion Cotillard, both of whom he worked with in the 2015 production of Macbeth.
And for you trivia fans: Fassbender never even heard of the Assassin's video game series nor had he played any of the 9 games in that series until he was cast in this role.
Release Date: December 21
The Wizardry Series
Alice Through the Looking Glass
Alice wakes up in Wonderland again, but things are not good. The Hatter is in terrible shape, and a magical scepter must be found to stop a new villain, the Lord of Time, from turning the clock forward and transforming Wonderland into an old barren place. There is also a plot underfoot to put the Queen of Hearts back on the throne, and this must be thwarted as well.
With superstars like Johnny Depp and Anne Hathaway, this film will has been long awaited and will certainly be a box office hit this spring. Distributed by Disney and directed by James Bobin, this was also the last film appearance of Alan Rickman. He played the caterpillar in the 2010 version of the original story and plays a butterfly in this new episode. Rickman died in late January of this year.
Release Date: May 27
Miss Peregrine's Home for Peculiar Children
Based on the book of the same name, by author Ransom Riggs, the movie only has a few differences. If you loved the book, you'll love the movie too. For those of you who have not read the book, this is the story of Jacob (played by Asa Butterfield) who, by discovering some mystical clues, finds himself in a place called Miss Peregrine's Home for Peculiar Children. As he learns about the home's residents and their special powers, he also learns of their powerful enemies. Jacob can save his new friends with his own peculiarity.
Distributed by 20th Century Fox and directed by Tim Burton, the movie starts Eva Green as Miss Peregrine and Samuel L. Jackson as Barron.
Author Riggs has already written two sequels to his original book, so look for additional films to come in the future.
Release Date: September 30
Fantastic Beasts and Where to Find Them
Suffice it to say that J.K. Rowling is the writer of this book now Hollywood movie. If you have not read the book, you will find little information about the movie plot, other than you will be taken back 70 years before Harry Potter reads the book written by Newt Scamander. This is the story of Newt and his secret community of witches and wizards in New York City.
Distributed by Warner Brothers, and directed by David Yates, there is a long cast of wizards and other memorable characters. Eddie Redmayne plays Newt and is supported by Ezra Miller and Colin Farrell, along with Ron Perlman, Katherine Waterston, and John Voight.
Fans of Rowling should also watch for "Fantastic Beasts and Where to Find Them II, due to be released in 2018.
Release Date: September 30