24HourAnswers.com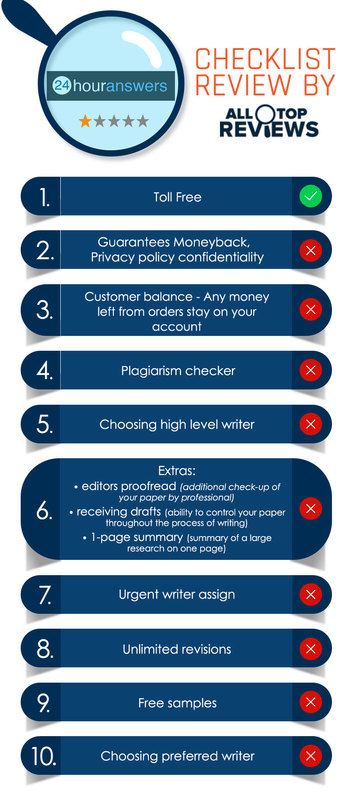 While we normally limit our reviews to writing services, several people have messaged us asking for information about 24HourAnswers.com. Because of this, and because many of the services we do review also offer similar services to this company, we have decided to write a 24HourAnswers review. Because this is a tutoring and problem-solving service, we did not order writing services. Instead, we requested online tutoring and homework help. In addition to this, we also read several other 24 Hour Answers reviews. We also explored the company website, compared 24 Hour Answers prices, and looked for any available 24HourEssays.com discounts. The following is our official 24HourAnswers.com review.
Products And Services You Will Find
Services offered here include online tutoring, homework help, and a 'library' of common homework solutions. We solicited one of each product type in order to see if our experience matched other 24HourAnswers reviews. Our remarks below are based on these services as well as our other findings.
The Real Proof - Writer Experience And Quality of Products
Unfortunately, we had problems with every service we offered. First, when we sought online homework assistance, it took several hours for anyone to respond. We assume that most people in need of homework assistance likely need help immediately. So, we found that to be troubling. Online tutoring was slightly better. However, we didn't feel as if the tutor new significantly more than what the average college student knew. They were able to provide answers, but not helpful explanations. It was more like paying someone to do the work rather than paying someone to teach you the concepts. Finally, we paid a bit of money to view some of the items in the 'library' two of them were accurate. However, the third was definitely not.
We inquired about that and customer support referred us to their policy that mentions that there are multiple ways to solve math problems. While this can be true, there are specific methodologies that are called for. Not following them can be problematic.
Now The Money - Prices, Discounts, Payment Methods
With the exception of the items in the library, no prices are published up front. Instead, they are negotiated with the instructor/tutor. Obviously, this means that no 24 Hour Answers discount is offered either. While a 24 Hour Answers coupon code may have been helpful, quality was a bigger concern. 24HourAnswers prices and the lack of 24-hour answers promo codes was the least of our concerns.
We made our payment via PayPal as it was the safest and easiest method. It does appear as if other common forms of payment are available as well. We did not encounter any 24 Hour Answers testimonials or comments with any negative experiences in making payment.
The Good, The Bad, The Beautiful, The Ugly
Unfortunately, we have to issue a final 24HourAnswers.com rating of poor. The tutoring and homework services just weren't up to par. We also didn't appreciate paying to access information that was not accurate. On top of that, customer service response to our complaints was dismissive and lackluster.
We would like to remind our readers that many of the writing services we review do offer homework and problem solving assistance. Several of them have received our approval. If you need this kind of assistance, please take some time to check out the other reviews on this site.
24HourAnswers.com Customers' Reviews
(4)