24HourAnswers.com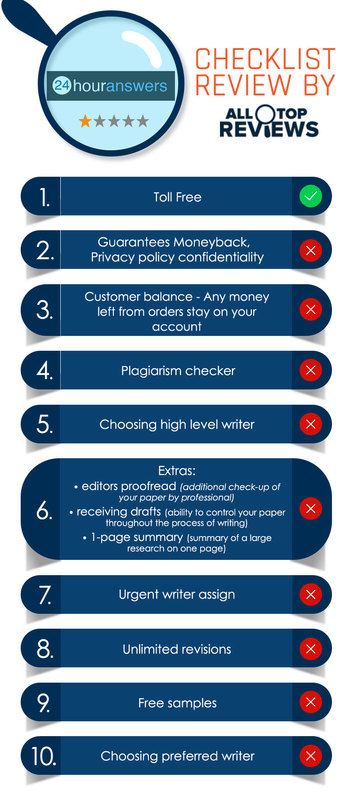 While we normally limit our reviews to writing services, several people have messaged us asking for information about 24HourAnswers.com. Because of this, and because many of the services we do review also offer similar services to this company, we have decided to write a 24 Hour Answers review. Because this is a tutoring and problem-solving service, we did seek out information on writing services specifically. Instead, we sought out information about online tutoring and homework help. In addition to this, we also read several other 24 Hour Answers reviews. We also explored the company website, compared 24 Hour Answers prices, and looked for any available 24HourEssays.com discounts. Is this a reliable service? The following is our official 24HourAnswers.com review.
Products And Services You Will Find
Services offered here include online tutoring, homework help, and a 'library' of common homework solutions. We explored one of each product type in order to see if our experience matched other 24HourAnswers reviews. Our remarks below are based on these services as well as our other findings. As mentioned above, there are now writing services available, except those that are related to daily homework assignments.
The Real Proof - Writer Experience And Quality of Products
Unfortunately, we encountered one issue or another with every service here. First, came to our investigation into online homework assistance. It took several hours for anyone to respond. We assume that most people in need of homework assistance likely need help immediately. So, we found that to be troubling. Imagine having a homework assignment due the next day, and being unable to get help for hours! However, we can say that we received adequate help when we were able to make contact with a homework assistant.
Online tutoring was slightly better. However, we didn't feel as if the tutor new significantly more than what the average college student knew. They were able to provide answers, but not helpful explanations. That can be a problem for students seeking tutors who can be trusted to provide high-level insights into academic topics. It was more like paying someone to do the work rather than paying someone to teach you the concepts. This is not what we would recommend for a student seeking subject level mastery. Students who do find a tutor that is a good match will be happy to learn that they are able to request that tutor again should they need more assistance.
Finally, we received information from a student who paid to access items in an academic library of sorts. They reviewed three items in the 'library', and two of them were accurate. However, the third was definitely not.
We inquired about that and customer support referred us to their policy that mentions that there are multiple ways to solve math problems. While this can be true, there are specific methodologies that are called for. Not following them can be problematic.
On the matter of customer support: We can say that customer support here is quite responsive, even if the quality and care of those responses are not adequate. Contact can be made via phone, email, or an online form. The company even provides a complete mailing address.
Now The Money - Prices, Discounts, Payment Methods
With the exception of the items in the library, no prices are published upfront. Instead, they are negotiated with the instructor/tutor. Obviously, this means that no 24 Hour Answers discount is offered either. While a 24 Hour Answers coupon code may have been helpful, the quality was a bigger concern. 24 Hour Answers prices and the lack of 24-hour answers promo codes was the least of our concerns.
We made our payment via PayPal as it is a safe and secure option. It does appear as if other common forms of payment are available as well. We did not encounter any 24 Hour Answers testimonials or comments with any negative experiences in making payment. Everything appears to be legal in this regard.
The Good, The Bad, The Beautiful, The Ugly
Unfortunately, we have to issue a final 24HourAnswers.com rating of poor. The tutoring and homework services just weren't up to par. We also didn't appreciate paying to access information that was not accurate. On top of that, the customer service response to our complaints was dismissive and lackluster.
We also wanted to mention that we review each service's policy pages. This is important, as students are, essentially, entering into a binding contract when they place an order. Further, in addition to paying significant sums of money, they also trust these businesses with a significant amount of personal and financial data. Here are our takeaways:
There is no specific information addressing the use of cookies.
Students may deactivate their accounts, but it does not appear as if their data is specifically deleted.
No mention of GDPR is in any of the policy documents.
Each policy document is very brief and does not go into much detail.
While we are unaware of any data security issues, we do wish these policies were more clear on how cookies, GDPR rights, and deletion of customer records are handled. The absence of information here is alarming.
We would like to remind our readers that many of the writing services we review do offer homework and problem-solving assistance. Several of them have received our approval. If you need this kind of assistance, please take some time to check out the other reviews on this site.
24HourAnswers.com Customers' Reviews
(6)