24HourAnswers.com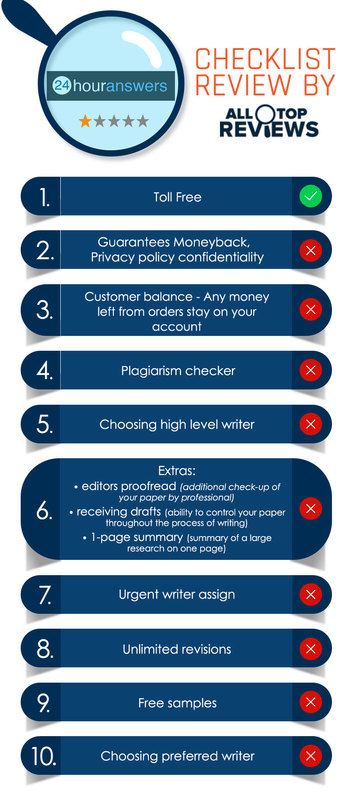 While we normally limit our reviews to writing services, several people have messaged us asking for information about 24HourAnswers.com. Because of this, and because many of the services we do review also offer similar services to this company, we have decided to write a 24 Hour Answers review. Because this is a tutoring and problem-solving service, we did not seek out the same information as we do for writing services. Instead, we sought out information about online tutoring and homework help. In addition to this, we also read several other 24HourAnswers reviews that we found on the web or that were posted on our website. We also explored the company website, compared 24 Hour Answers prices, and looked for any available discounts. Is this a reliable service? And can it be trusted to provide good quality? The following is our official 24HourAnswers.com review.
Products And Services You Will Find
Services offered here include online tutoring, homework help, and a 'library' of common homework solutions students can use to search for their question. There is also a blog. We explored one of each product type in order to see if our experience matched other 24HourAnswers reviews. Our remarks below are based on these services as well as our other findings. As mentioned above, there are now some writing services available, except those that are related to daily homework assignments.
The Real Proof - Writer Experience and Quality of Products
Unfortunately, we encountered one issue or another with every service here. First, came our investigation into online homework assistance. It took several hours for anyone to respond. We assume that most people in need of homework assistance likely need help immediately. So, we found that to be troubling. Imagine having a homework assignment due the next day, and being unable to get help for hours! However, we can say that most customer feedback we found/received stated that adequate help was provided once it was set in place.
Online tutoring was slightly better because this is a more long-term collaboration between students and tutor, rather than simply an immediate urgent need. However, a lot of feedback related to not getting thorough enough explanations to go along with the assignment completions. That can be a problem for students seeking tutors who can be trusted to provide high-level insights into academic topics. Many stated, though, that it was more like paying someone to do the work rather than paying someone to teach you the concepts. This is not what we would recommend for a student seeking subject level mastery. Students who do find a tutor that is a good match will be happy to learn that they are able to request that tutor again should they need more assistance. It appears that quality is fully dependent upon the individual tutor and the relationship between student and tutor.
On the matter of customer support: We can say that customer support here is quite responsive, even if the quality and care of those responses are not always adequate. It is possible that 24HourAnswers is using an answering service for its telephone and live chat services. Contact can be made via phone, email, or an online form. There is also a physical mailing address. It is obvious that 24 Hour Answers is a legal company performing a legal service. 


Now the Money - Prices, Discounts, Payment Methods
With the exception of the item pricing in the library, no prices are published upfront. Instead, they are negotiated with the instructor/tutor. Obviously, this means that no 24 Hour Answers discount is offered either. 
Payment can be made via any major credit card or PayPal. And, while the company does not say so, we are assuming it is using a third-party payment processor that is safe and secured. No customers state any issues about providing their financial information.
The Good, The Bad, The Beautiful, The Ugly
First the Good and Beautiful:
24HourAnswers is a legitimate tutoring service that allows students to get specific questions or solutions or to "employ" a tutor for a longer time period. 
The company has several methods of contact.
Students and their tutors do communicate directly
The on-site blog has many useful articles for students
There is a page dedicated to a number of tutor profiles
Students do have the opportunity to "interview" bidders for longer-term tutoring solutions
Payment methods appear to be safe
The Bad and the Ugly:
Responsibility for choosing the right tutor is totally placed upon the student. This can lead to mismatches and student dissatisfaction
Changing tutors when the match is not right is not the easiest, and getting a refund or payment credit for services already rendered, even if poor, is not possible except in very specific circumstances.
Policies are not as detailed as they should be, especially regarding privacy and satisfaction guarantees.
Students may deactivate their accounts, but there is no guarantee that their personal information is wiped from the system
Customer satisfaction is mixed and is obviously based upon the specific tutor that a student selects
The process for getting "emergency" help is somewhat delayed by the process for posting a question and then having to select among "tutors" that bid. 
Pricing is up to negotiation between students and their tutors. Students who are not good negotiators are at a disadvantage.
Overall, we are providing a rating of 3.5 on a 5-point scale. 24HourAnswers needs to speed up its processes and give its policies a "makeover."
We would like to remind our readers that many of the writing services we review do offer homework and problem-solving assistance. Several of them have received our approval. If you need this kind of assistance, please take some time to check out the other reviews on this site.
24HourAnswers.com Customers' Reviews
(12)