Do My Papers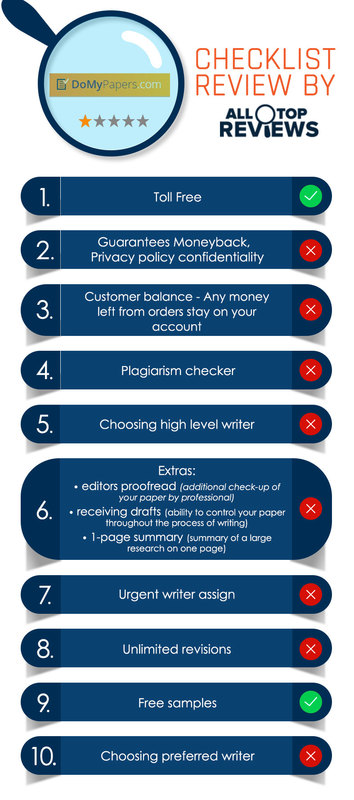 Occasionally, we run across a writing service that is rather stunning for negative reasons. Such is the case with DoMyPapers.com. We were first asked to do a review of this writing service by a dissatisfied customer, but DoMyPapers had already been on our radar for a while, primarily due to negative customer reviews we had read in the course of researching other writing services. We performed our normal review routine, studying the website and its content, reading through the testimonials on the site, speaking with customer support, and attempting to order a piece of writing for ourselves. This is our summary of DoMyPapers.
Products and Services You Will Find
While the focus is clearly on thesis and dissertation research and writing, the company does also offer all products and services for university students – both undergraduate and graduate. Products include all of the standard academic writing assignments, as well as admissions essays and editing and proofreading.
We spent a long time pouring through the website content that spoke to the products and services offered. DoMyPapers.com provided two different addresses for its corporate headquarters, one in Delaware and one in New York. We were unable to confirm either one of them. The web content that explains products and services is cumbersome in its attempt to be "scholarly," but the lack of proper English is stark, and it is hard to "wade" through all of the verbiages.
There is no phone number, only a live chat feature. We contacted customer support on three occasions in an attempt to get some details about thesis and dissertation services. We got the same responses each time – fill out an order form, pay the $4.99 for a draft, and that a full thesis or dissertation could be had within just a few days – hogwash, quite frankly.
The Real Proof – Writer Experience and Quality of Products
We assess quality by the text of the website, samples of writing, blog posts, and what customers have to say. Here is a summary of our DoMyPapers assessment:
The claim that they only use current and retired professors from U.S. and UK universities is hard to believe. If those writers are responsible for the site text and the blog posts, then our quality level of professors has seriously declined. The site content is verbose, with long, awkward and unintelligible text, filed with incorrect word usage and poor sentence structure.
Customer complaints area pretty rampant. They speak to low quality of research and writing and lack of responsiveness from writers and customer support.
We ordered an undergraduate level research paper and received a "draft" for $4.99. It was little more than a brief outline and summary of what would be included in such a paper. There was no thesis statement or research question provided. We went no further.
While DoMyPapers is not a flagrant fraud or scam, there are major issues with quality and support, and potential customers should be aware of these. We were also unable to find a BBB membership. Especially if the company is headquartered in the U.S., this should be standard procedure.
Now the Money – Prices, Discounts, Payment Methods
DoMyPapers prices are above average for the industry. In terms of discounts, there is one factored in for new customers, although there is no promo code to enter. There is a statement on the "discount" page that returning customer will not find discounts or coupon codes for such because they just do not award such things. Our research paper, had we gone through with it, would have been $185.70 but with a price of $170.84 with a new customer discount.
Here is another area in which we found no offers. The company does speak to it no-plagiarism policy if one can understand what is being said, but there are no provisions for communications with writers, free pages or revisions. We find this odd.
The Good, The Bad, The Beautiful, the Ugly
We have spent a lot of time working on this review. While we dislike "trashing" a writing company, when we look at the pros & cons of this service, we are struck by the supreme lack of quality and the exaggerations and mistruths that are contained in the provided information. We cannot recommend DoMyPapers to anyone, and are providing an overall rating of "Poor."
Do My Papers Customers' Reviews
(12)