Evolution Writers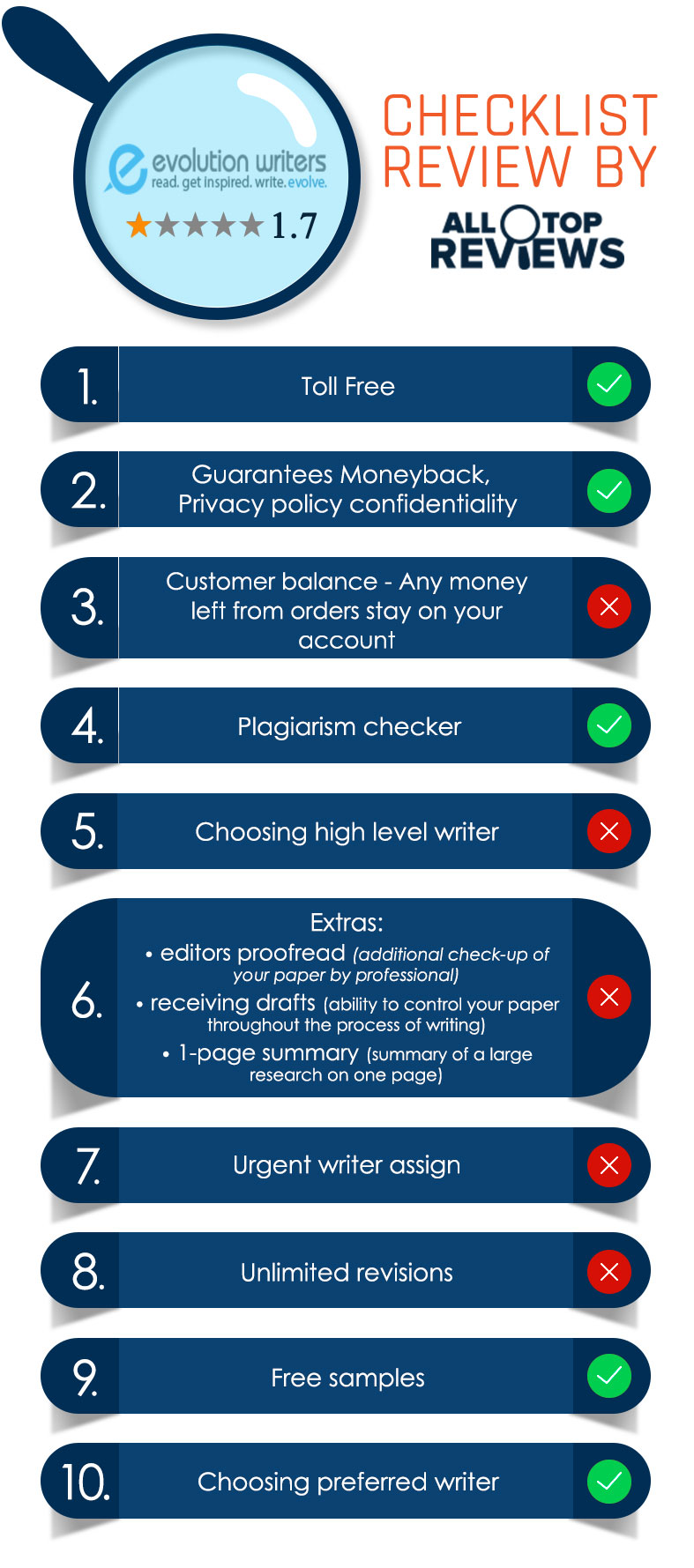 Evolutionwriters.com is a writing service that focuses on customers that fall within three categories. These are students seeking academic writing services, businesses professionals seeking ghostwriting and other services, and job seekers. As is our process with all writing service reviews, we look at a number of factors – structure and content of the company website, on-site customer testimonials, off-site customer feedback, samples of products, costs, benefits, and any other unique features we discover. The goal is for our users to have enough information to make good choices when they decide to order products or services. Here is our summary of Evolution Writers.
Products And Services
A quick initial review of this website indicates that the following services are offered:
For students

Essays of any type and at any academic level
Term and research papers, again any topic and level
Thesis and dissertation writing for grad students
Book reports/reviews, analyses, abstracts, annotated bibliographies
Lab reports and case studies
Other standard academic writing help, to include homework, test-taking, and presentations
Admissions, personal statement, and scholarship essays
Editing and proofreading

For job seekers

Resumes
CV
Cover letters
Unique applicant documents

For business professionals

Copywriting services
Content marketing
Social media profiles and posts
Reports and proposals
This is by no means an exhaustive list of services, but it should give interested customers a good idea of what they can find at EvolutionWriters.
Trustworthiness
Let's start on a positive note. Evolutionwriters.com is not a fraud or scam. In fact, it is a legal company that has been in business since 2004. Customers place and receive their ordered products and/or services. In fact, customer feedback indicates that Evolutionwriters.com can be trusted to keep personal and financial information safe and secure. As well, the company has a set of policies that govern the rights and responsibilities of customers and themselves. The only negative feedback we received in this regard were some disputes regarding refunds and revisions. Some customers felt that the policies were a bit misleading.
There were no customer testimonials on the site itself. Our information has been gathered from other review sites and users of our review site specifically.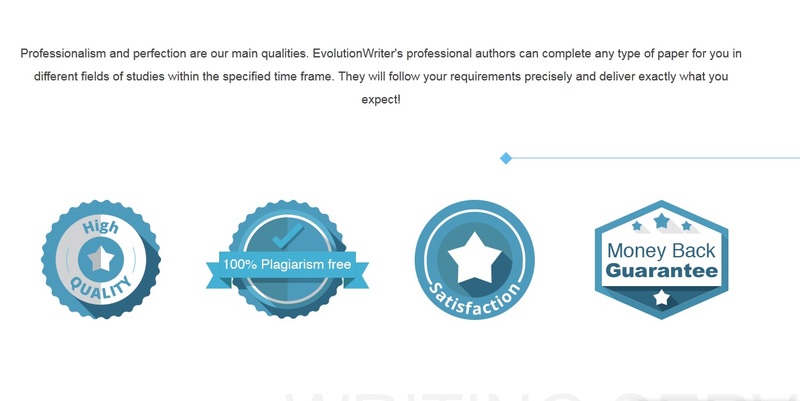 Writing Quality/Writer Expertise
Customers are given a choice of the level of quality they want. If they should choose the basic package, they do get a personally assigned writer who, according to the company, has the credentials to create the product. If a higher level of quality is desired, there is a premium VIP package that includes a more experienced writer and a full review and edit before it is delivered. There is, of course, an extra fee for this.
To determine the quality level, we urge our users to review a number of the sample products that Evolution Writers publishes on its site. They are all categorized by content area, and reading through them will provide a realistic picture of what you can expect in terms of products and product quality in the topic area you need. Quality does vary somewhat, and this is probably a matter of the individual writer who is assigned to an order and the difference between the basic and premium packages. This will be an individual decision, of course. Some of the samples do contain grammatical and word usage errors, and that may be a factor of the use of ESL writers.
Pricing And Discounts
Prices are well within the average range for the industry, beginning at $9.97 per page for a basic high school essay with a 14-day deadline. As is common with all writing services, the more complex the product, the higher the academic level, and the more urgent the deadline, the higher the cost will be. And admissions and scholarship essays are quite pricey. 
You will find a pricing calculator on the site, so you can determine the final cost, as well as choose any extras for additional fees. While the company does not offer discounts, coupon codes, etc. on its site, customers can subscribe to the newsletter where special offers with promo codes are provided. There is a loyalty program for returning customers and a discount for a very large order ($500+). And, if a customer refers to another who then places an order, there are bonuses that can be applied to future orders. 
Payment Methods: EvolutionWriters accepts all major credit cards and PayPal. It uses a trusted third-party payment processor, so you can feel very comfortable providing your financial information. We have no evidence of any breach of the company's system.
Additional Features
Many of the writing services we review offer additional content such as blog posts and articles that offer customers interesting and trending information. We didn't find any of these additional features here. However, the website does provide more than the normal amount of product samples. Most of the "extras" are fee-based, so we recommend that, once you calculate your price, go to the order form and check out the prices fo those extras you want – even a table of contents.
Conclusion
After considering Evolution Writers pros and cons, here is what we have concluded. The company is established with a long history of providing products and services to its customers. It has a reputation for taking orders and delivering what each customer has ordered in a safe and secure way. Its customer service department is available 24/7 by phone, email, or chat, although some agents may not have the training to provide the detailed answers you may want. The other issue that you may have is with quality of the basic package, and so you may want to pay the extra price for the premium level writing.
Evolution Writers Customers' Reviews
(15)