Superior Papers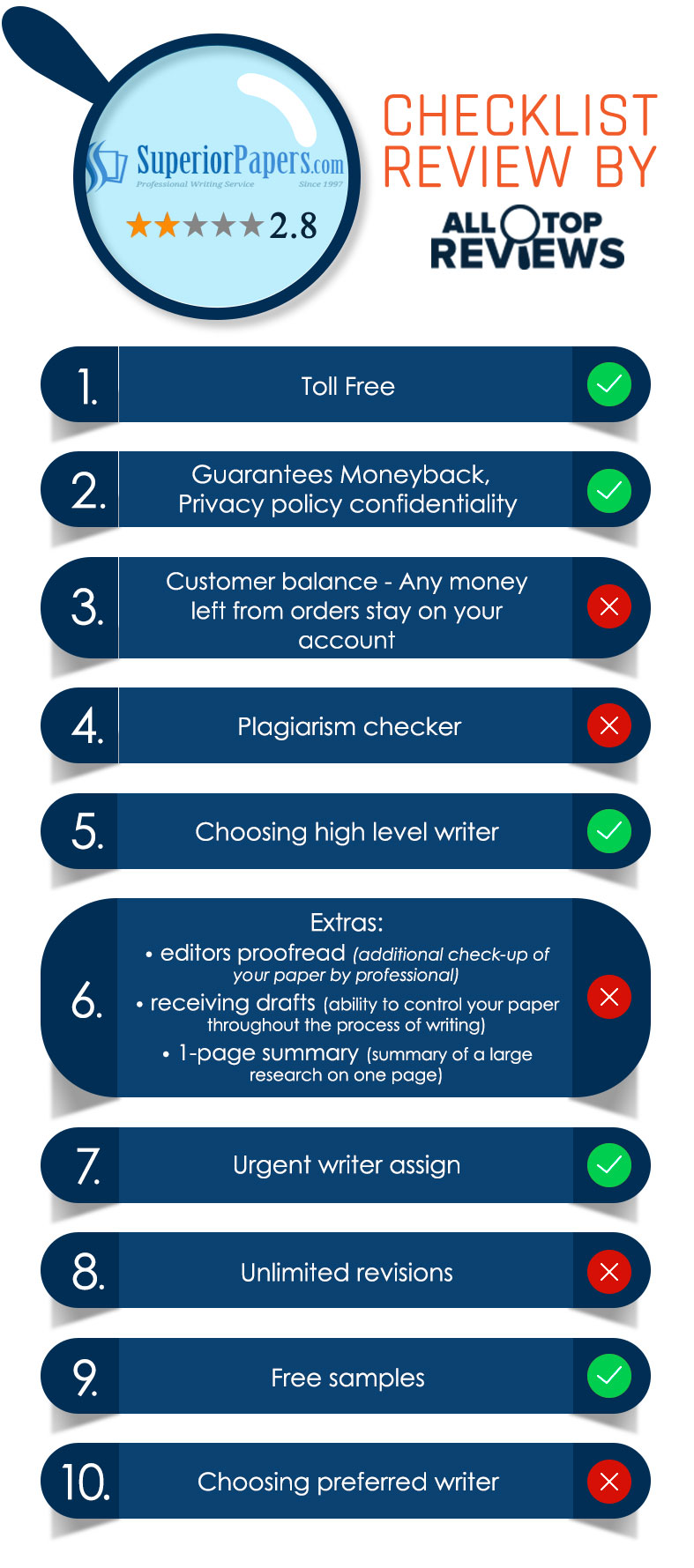 SuperiorPapers.com has supplied academic writing for 15 years, according to the website information. It is focused on products and services for students. We have prepared this report as part of a continuing effort to evaluate and assess the quality and level of service of online writing services. In order to prepare our reports, we use the same objective criteria for all assessments and look at a number of factors. In preparing this SuperiorPaper review, we have looked at all of the content on the site, the quality of writing products through samples that have been made available, through SuperiorPapers testimonials found on the site, from feedback that we have found elsewhere on the web, and from our own order of a research paper. This report summarizes all that we have discovered.
Products and Services You Will Find
You will discover that Superior Papers provides only academic products and services, beginning with high school essays and graduating upward through Ph.D. culminating dissertations. These include essays, papers, projects, and a wide range of other products. As well, the company offer editing services, completion of difficult coursework assignments, and multiple-choice test taking.
Of interest to graduate students may be the offer of Ph.D. writers for theses and dissertations, by section and chapter, dependent upon customer need.
The Real Proof – Writer Experience and Quality of Products
To assess these two factors, we first reviewed the website content. We were unable to find any information on the backgrounds of the writers that are employed, other than they do promise Ph.D. writers for graduate level works. We therefore have to evaluate writer experience indirectly by evaluating the quality of products. Superior paper reviews relative to product quality are mixed.
On-site testimonials are all very positive
Feedback we were able to locate on other sites and on social media, was definitely mixed. Customers stated that they did receive their products on time and that, for the most part, their directions were followed. Their concerns revolved around the quality of composition and the resources used.
We discovered similar issues with the samples we reviewed. In one instance, sub-topics were rather dis-organized without smooth transitions; in another instance of a case study, the entire product was only 4 pages in length. As well, the resources used were old and outdated – some from as early as 2005.
We experienced much the same issues within the research paper we ordered. It was delivered on time, and the number of pages and resources was exactly as we had specified. Again, however, the resources were "dated," and the composition quality was of some concern, given that it was at the college level.
Now the Money – Prices, Discount, Payment Methods
SuperiorPapers prices range from $19.99/page for high school essays to as much as $34.99/page for graduate level projects. This puts them within the high average range when compared with other services. Our 8-page research paper with a 7-day deadline cost $159.92, but, when the $20 discount was applied, came to $139.92.
Superior Papers discounts are a bit difficult to understand. Every new customer receives $20 off of his/her first order. It is unclear, however, what happens when the order is small. At one point, there is a $10 discount mentioned, but all of it difficult to understand. There is a link on the site for SuperiorPapers.com discounts, but, again, there is not a structured program. Customers are simply told that they can check their personal accounts for discounts and Superior Papers promo codes.
It also appears that there is a membership for sale, but the details are not available to new customers. Only returning customers have the opportunity to purchase this membership, and it then provides a SuperiorPapers coupon code for a lifetime discount rate.
Payment methods are fully secure and all major credit cards are accepted.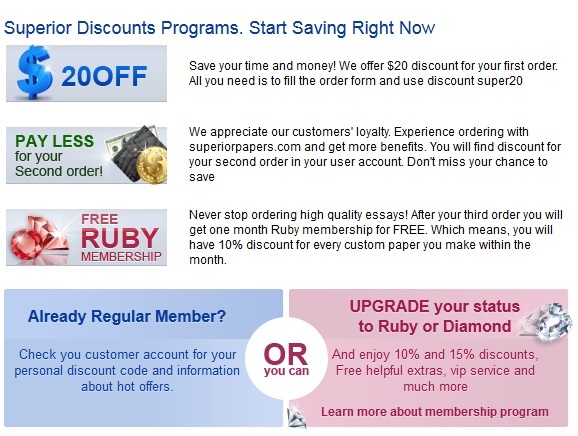 What if You Need Help? Can You Find it Easily?
There is a customer support department available by phone and live chat. We called several times to ask questions about products. There is some confusion on the part of the "sales" staff to which we were transferred, and it was difficult to understand some of the representatives who were clearly foreign. One staff member told us we could get a doctoral dissertation within 48 hours, but then another sales rep indicated a 5-day deadline. In either case, this would be impossible.
The site is easily navigable, with a menu on the left rail and detail about the most common products provided by links at the top of the page. The order form is detailed and self-explanatory.
The Good the Bad, the Beautiful, the Ugly
Our SuperiorPapers.com review has determined that this writing service does accept, produce, and deliver academic writing products to its customers. There are certainly some concerns about quality of writing and appropriate resources. As well, their discount program is not fully described, and it appears that customers have to purchase a membership in order to become a part of the permanent discount program. We have assigned a SuperiorPapers.com rating of "Fair."
Superior Papers Customers' Reviews
(28)