RePhraser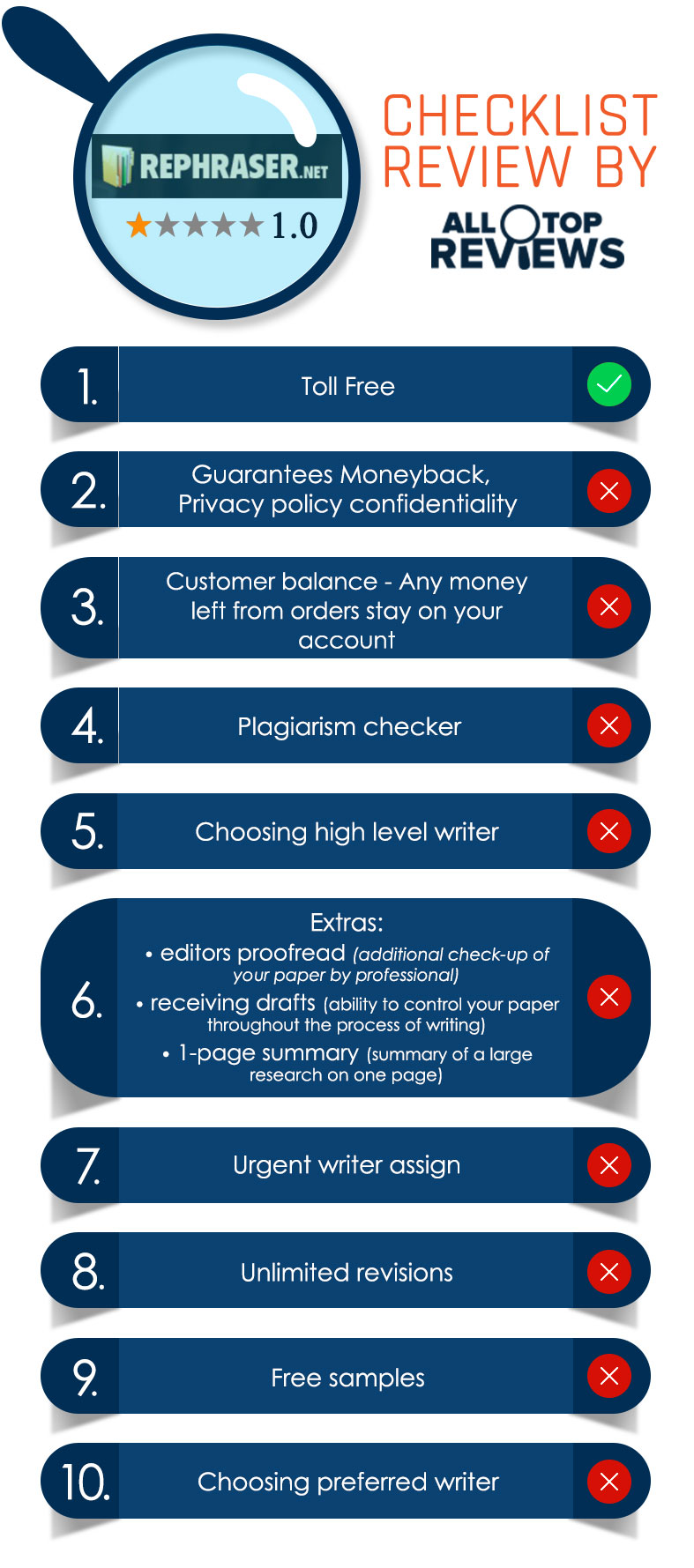 While RePhraser.net is technically a writing service, it does not produce original writing products. Instead, it is a company that offers re-writing. Our Rephraser review, though, will use the same factors and criteria that we use with a traditional writing service – we review the website information thoroughly; we read the Re-phraser testimonials; we searched the web to find Re-phraser reviews from former customers; and we ordered a re-phrasing project ourselves, in order to assess the quality of the company's products. This is the result of our Rephraser.net review.
Products and Services You Will Find
Rephraser provides re-phrasing and rewriting services to both students and business customers. When these customers find written content that they like but cannot use (that would be plagiarism, of course), they place an order for re-phrasing, upload the written piece, and the writers then re-write the pieces so that they will pass a plagiarism scan and be used. These products include essays and papers, as well as other academic pieces, and such things as articles and blog posts and other copywriting documents.
The Real Proof – Writer Experience and Quality of Products
According to the website information, all re-phrasing is completed manually – no spinning software is utilized. And, as an additional proof of quality, a plagiarism scan is run to demonstrate authenticity and originality.
To explore quality of product, we looked at rephrasing reviews of former customers that have been published on off-site places. What they say is not particularly positive. Many claim that the quality is poor enough that they are certain spinning software was used. And they also state that their complaints have fallen on deaf ears.
The piece that we submitted for re-phrasing was a short research paper on the Great Depression. We received the finished piece within the 7-day time frame we had stipulated. However, we found many of the same issues that other customers did. Phrasing and sentence structure was awkward, and vocabulary was often just plain wrong. We were certainly not impressed with the product we received. It may pass a plagiarism scan, but it is not something that could be submitted or published.
Now the Money – Prices, Discounts, Payment Methods
Re-phrasing prices are not really comparable to other writing services, because it does not produce original writing pieces from scratch. On the site, visitors will fine Rephrasing.com discounts that, in one place are 20% and another 25%. This is a Re-Phrasing discount for new customers; however, there seem to be some additional Re-Phrasing promo codes for returning customers, at least according to the customer support agent we spoke to. But he could not tell us how to get those. The only Re-phrasing coupon code we could find was for ourselves, as a new customer.
We paid $67.14 for the re-write of our 8-page paper, with a 7-day deadline. If we had wanted the maximum speed, 6 hours, we would have paid $201.42 – pretty pricey, when we consider that many other reputable writing services would produce an original product from scratch for far less than this.
Payment methods are by major credit cards and PayPal – and they are secure.
The Good, the Bad, the Beautiful, the Ugly
As we take a total look at this company and what it offers, we are disappointed. Certainly, there is a place for re-phrasing services. But if a company promises manual re-writes and does not then deliver them, we cannot recommend it. We are giving a Rephrasing.net rating of "Poor."
RePhraser Customers' Reviews
(19)