EduBirdie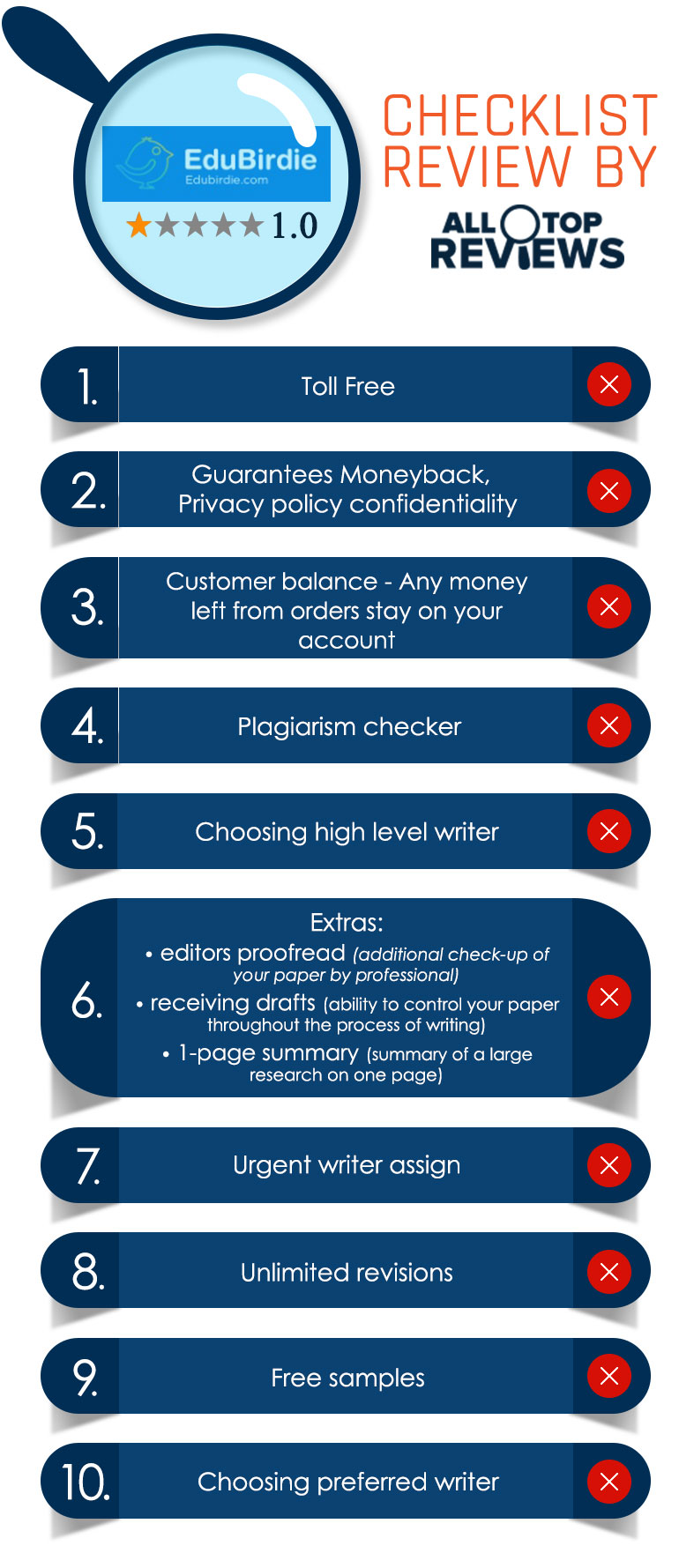 Edubirdie.com does not speak to how long it has been in the writing service business; however, we have found Edu Birdie reviews online from as early as 2015, so we are assuming at least two years. While it states that it is headquartered in Wilmington, Delaware, USA, it appears that that is only where it is registered as a corporation. The actual physical location of the company is not known. In preparing this EduBirdie review, we have used our standard criteria – the quality of the content on the company website, information we can find about writers, the Edu Birdie discount plan, examples of writing if available, extra benefits, Edu Birdie testimonials, both on and off-site, customer service quality, and the results of a short college paper we ordered. We can now provide this summary.
Products and Services You Will Find
It appears that this company focuses primarily on college level work, although certainly high school students could probably order pieces of writing too. The company has a complete listing of academic products and services on its home page, but its business model involves placing an order and then accepting bids from its registered writers. Most of the content on the site regarding products and services relates to undergraduate and graduate level products.
The Real Proof – Writer Experience and Quality
When we read through the content on the website, we were struck by the poor quality of composition. This company is obviously owned and operated by non-native English speakers. However, giving it the benefit of the doubt, we went on to look at example writings that have been crafted by its writers and, as well, its blog. We were rather appalled at the poor quality of the examples. In fact, they reflected some of the poorest scholarly writing we have seen from a company that purports to have outstanding writers. Grammar and composition were obviously ESL-written. Our Edubirdie.com review was off to a bad start. We then turned to the blog, and found the same issues with the published posts – poor structure, lack of thesis statements, incorrect word usage, etc.
We also read through Edubirdie reviews we found on other review sites and social media. Customers are not happy with what they received and complained about the lack of responsiveness from the company customer support department. While it advertises that it responds to customers in minutes, the only way to contact the company is via email, and emails were not answered at all in many cases.
The paper we received would not have been submissable for any college course. It was poorly structured, lacked coherency, and included terrible English composition. Resources were not as we had requested. We tried to work with the writer we had chosen, but this did not work well either. It seems that when customers do not like their products, everyone is strangely silent.
Now the Money – Prices, Discounts, Payment Methods
EduBirdie prices are not set. Once a customer has settled on a writer, it is up to the customer and that writer to determine pricing. There are no Edubirdie.com discounts and no Edu Birdie promo codes for discounts. Everything is determined by the bid and the final price that is negotiated.
Customers must place the entire price of the piece on account with the company up front. Payments made be made by any major credit card or PayPal, and payment methods are fully secure.
In short? Don't look for any discount or an EduBirdie coupon code.
The Good, The Bad, the Beautiful, the Ugly
We have to say that "the Ugly" outweighs any possible redeeming features of this company. It is obviously using ESL writers; its customer service is virtually non-existent; and customers who are unhappy with their products will find it very tough to get any response or money back.
Overall, our Edubirdie.com rating is "Poor." We would urge potential customers to avoid this company. It is not fraudulent, but it does not provide acceptable writing products for English-speaking students in English-speaking institutions.
EduBirdie Customers' Reviews
(13)