Essay Pro
The EssayPro.com website states that this writing service has been in business since 1997. 22 years is a long time. Essay Pro sports a website that is relatively well-organized with links for explanations of its services, about the company, FAQ, how to order, reviews, and a blog. Navigation is easy. But is Essay Pro legit? In preparing our review of the company, we used all of the content on the website, posted reviews, pricing, quality of customer support services, comments and feedback that some of our site users submitted, and any other information we could find on the web regarding product quality. The following is the result of all that we have found.
Products and Services You'll Find
The company serves only students, but students at all grade levels. This means that products range from a basic high school essay all the way up to Ph.D. dissertations, and everything in between that. It also offers homework help in any subject, college admissions essays, and editing, proofreading, and re-writing services. In this respect, then, it can be considered certainly a full-service agency.
The EssayPro.com business model is not unique but is one that is used by a minority of writing services in the industry. When students decide to place an order, they complete a detailed form of the type of product or service they need, leave their email address, and wait for bids to arrive. They then have the opportunity to "interview" each candidate via a messaging platform. Once they have selected a writer and agreed upon a price for the project, the student places the fee on account with the company to be released once the task is completed to satisfaction.
So, you do not have to pay until you receive the finished essay. However, you have to create an account and perform an EssayPro login, after which you will have to put money into your account before you're able to place an order. Once the order is approved and you received it, the money is released and given to the writer.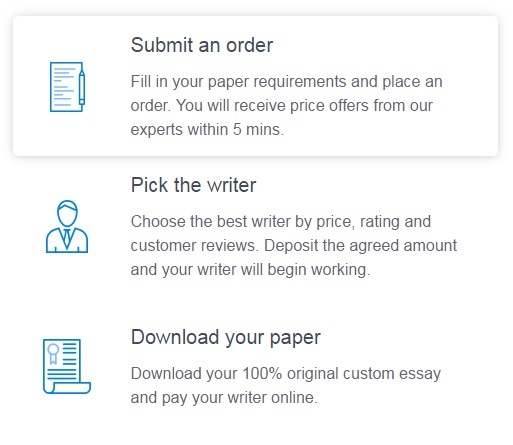 The Real Proof – Writer Expertise and Quality of Products
There is a link titled "Our Team" on the home page. This will take students to the full list of available writers, complete with photos and a brief profile. The profiles include how many pieces the writer has completed, in what subject areas s/he writes, and some customer reviews. 
No information is provided about academic background and experience. It is the responsibility of the student to ask about this during the "interview" process. And this could get a bit time-consuming for the customer.
To gauge the quality of products and writers` expertise, we have had to rely on what customers have had to say about their experiences. The reviews are mixed.
Some state that they were disappointed in the final product and had to request several revisions. This pushed them up against deadlines they were facing for submitting their pieces to instructors.
Some were satisfied with their products and said they would probably use the same writer in the future.
Some expressed concerns about the quality of resources used in research, especially at the college level. They wanted more original, primary source materials, as opposed to secondary ones.
We checked several reviews on different sites such as Reddit. The EssayPro Reddit opinions were mixed, and we could not just overlook the negative ones. Some people received poorly written papers, while others complained about how the customer service doesn't help in any way. Some other clients were charged multiple times for their orders. Therefore, there were multiple bad experiences with this platform.
Here is our conclusion in the area of quality and expertise: Customer satisfaction is wholly based upon the writer they select, and that puts a lot of onus on students who may not be the best judges of writer quality through an "interview" process. The company itself does not get involved in this selection process at all. 
While EssayPro.com is a legal and reliable service, students must understand that they have a lot of responsibility in this process.
Now the Money - Prices, Discounts, Payment Methods
Essay Pro prices fall within the average range, with the minimum being $11 per page. Again, the final price for an order is whatever the customer and writer agree upon.
The company accepts all major bank cards in payment, and customers should have no concerns about security. The company uses an SSL-certified third-party processor for payments – a safe method, to be sure.
There are no discounts on this business model. Again, the price is totally a result of what customers and writers agree upon.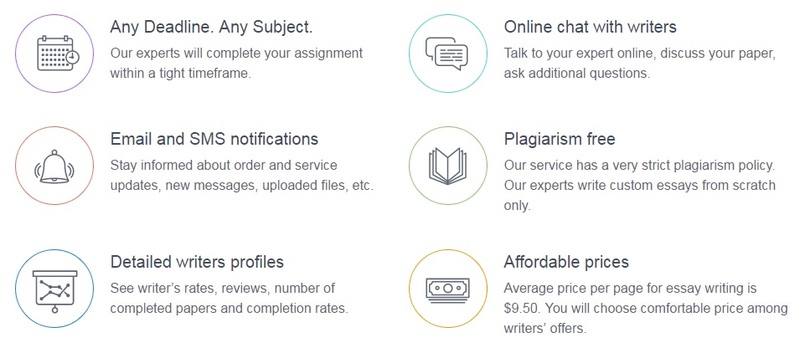 So, don't have any expectations to use any Essay Pro promo code, because it will not be possible. As you can expect, we were very disappointed to see this. Students who need a longer essay done for them will have to pay a higher price, and a promo code would come in handy with a discount. But considering this business system, it makes sense that no such discounts apply.
What If You Need Help? Can You Find It Easily?
This is a bit of an issue. There are six customer support reps profiled on the EssayPro.com website. Contact information, though, is a bit obscure and will take some digging. There is no phone number or live chat feature, and urgent issues may not always be handled urgently. We would suggest that the company set up better contact methods.
The Good, the Bad, the Beautiful, the Ugly
In terms of being reliable, this company does deliver an ordered product, although the quality is somewhat mixed. The issues we have are the same we have with any writing service that uses this business model.
We also looked at the guarantee policy and noticed that it is not that different compared to the policies of other such sites. Refunds can be obtained, but only in certain situations. If the paper is delivered late, or if there has been no writer assigned or two payments were made, you can get a full refund. Also, if you cancel the order after the writer has been confirmed, you can still get a refund.
Another situation when you can get an EssayPro refund is when the paper you received was plagiarized. If you can prove the plagiarism, then you can get a refund.
There is not a lot of screening for accepting writers. Writers simply register on the site, state the topic areas and types of writing/editing, etc. they do, and that's about it. If the company thoroughly vetted writing candidates, there would not be such a variance in product quality.
Students are often rather desperate and need immediate help. In this situation, they are not likely to take a lot of time holding discussions with bidders. They will often look at prices first and take a writer they can afford, hoping for the best.
For these two reasons alone, we would assign a rating of 3, on a scale of 1-5.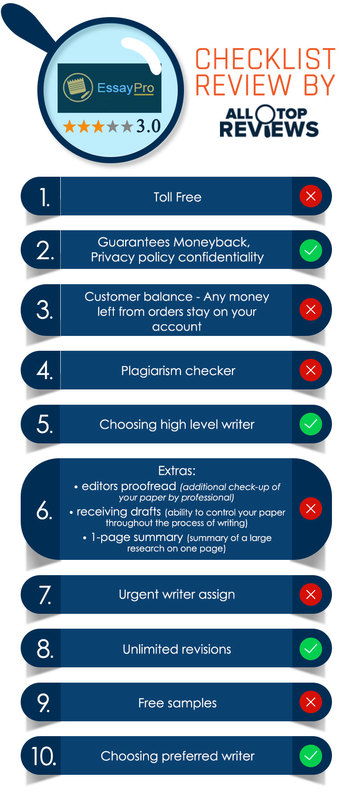 Essay Pro Customers' Reviews
(30)