Essay Have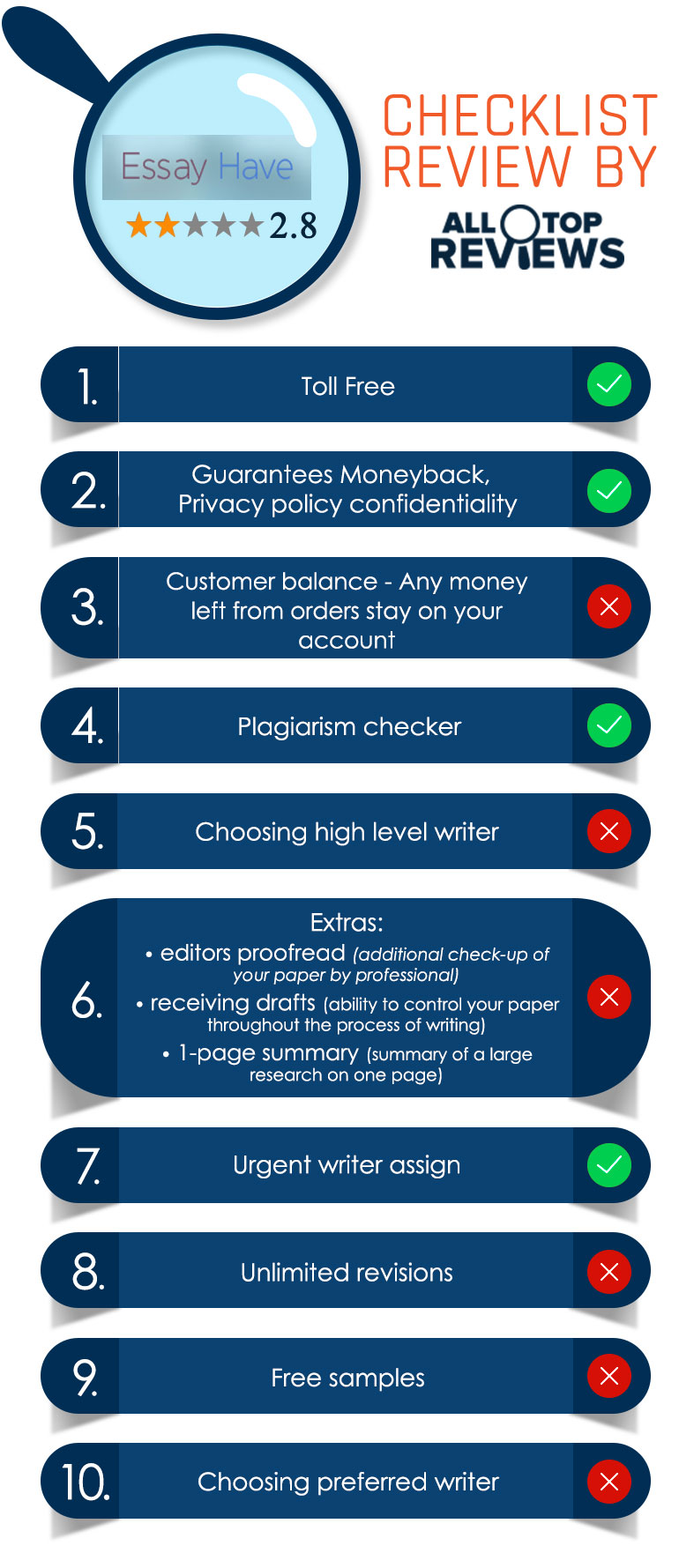 EssayHave.com has either been in the online writing service business for eight or 11 years, depending on which page of the website is being read. Nevertheless, it has been around long enough that we are able to gather enough information for an EssayHave review. As with all of our writing service company reviews, we use very specific criteria by which we evaluate every company. These include Essay Have reviews that customers have written on consumer review websites, comments and feedback that have been posted on social media, Essay Have testimonials contained on the company site, our analysis of the site content and information, and the results of our placing an order for a college-level research paper. All of these things have resulted in the summary that is written here.

Products and Service You Will Find
Essay Have offers academic writing and services to students at all grade levels, through doctoral and professional programs. The list of products is provided on its site and also through a drop down menu on the order form. Virtually any type of academic writing assignment is listed for student ordering, from a high school essay through capstone projects of graduate students.
In addition to coursework writing, Essay Have offers admissions essays, editing and re-writing services, and resumes and CV's for students who are gradating and entering the job market.
Students will be able to order any type of writing product or service they need.
The Real Proof – Writer Experience and Quality of Products
Our EssayHave.com review process included a look at information about the writers that the company uses. There is a link to information about writers. Here, we discovered that there is a screening process that involves testing and writing samples for writer applicants. We also discovered that the company uses ESL writers if they can pass an English proficiency test. Unfortunately, that proficiency test does not really evaluate scholarly level writing at the university and graduate school levels. The expectations are quite high.
Once we learned this, we hopped on over to samples of writing on the site. We reviewed two samples, "Charities Nowadays" and "Bulimia and Anorexia," both college level papers. Here we found some serious grammar and word usage errors. In the case of the Bulimia and Anorexia paper, we have seen it on other websites, and it is filed with poor writing, as well as the absence of a conclusion. For college work, this would not be acceptable.
EssayHave reviews and comments that we located in other places on the web expressed complaints about writing quality as well. Further, the paper we received reflected the same issues that we found with the samples.
Now the Money – Prices, Discounts, Payment Methods
EssayHave prices range from $10/page for basic high school essays to $48/page for graduate level work. The paper we ordered, a political science research work of 8 pages with a 7-day deadline was priced at $158.00.
There is an option on the order form to request a native English-speaking writer, but that will add 30% to the original order – that's pretty pricey.
Unfortunately, there are no Essayhave.com discounts for new customers, or could we find a place on the order form for returning customers to enter any type of EssayHave coupon code for a discount.
We did find a link to a page on discounts which states that returning customers do receive discounts between 5 – 15% based upon total amount of money spent on previous orders. We did not see any Essay Have promo codes for any special sales nor any mention that they existed. And there still was no mention of an Essay Have discount for new customers.
Secure payments are made during order submission, and all major cards and PayPal are accepted.
The Good, the Bad, the Beautiful, the Ugly
Our biggest concern relative to this company is the quality of writing product. We believe that using non-native English speaking writers is a risky practice, and this was borne out by the quality of the samples we reviewed and the paper we received. Further, the 30% hike to get a native English-speaking writer is cost-prohibitive for most students. Our EssayHave.com rating is therefore "Fair."
Essay Have Customers' Reviews
(20)