Paper Help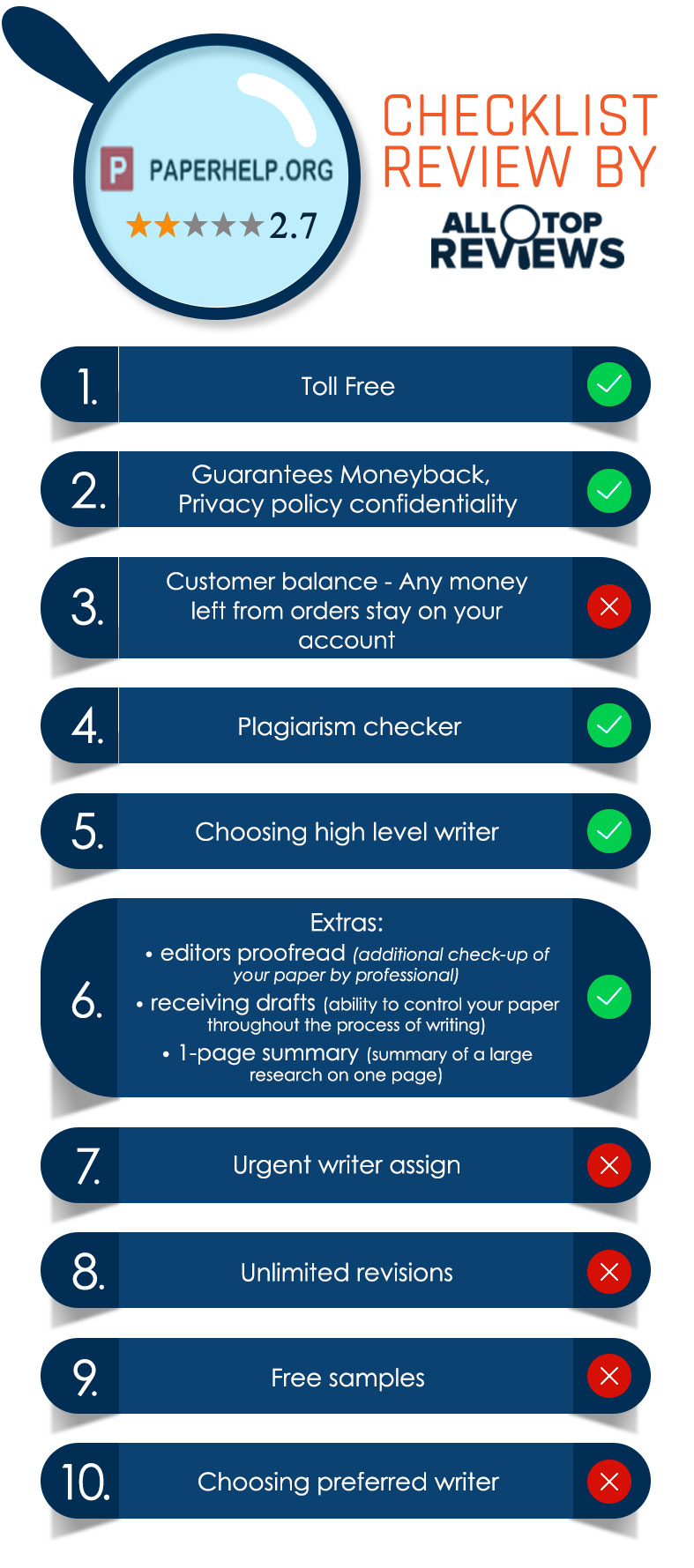 PaperHelp.org is a writing service that was established in 2010. We are providing a review of this company for the benefit of students and career professionals, so that they may have enough information about the products and services to make a good choice. In keeping with our own review policies, we have assessed Paper Help according to the same factors and criteria that we use for all companies we evaluate. This PaperHelp.org review is based upon factual information that we have gathered from the website, specifically products and services, pricing, benefits, security, customer service, and Paper Help testimonials. In addition to that, we have reviewed the sample writings found on the site and the quality of a research paper which we ourselves ordered. We also took into account customer reviews and feedback that we found on social media. This report is a summary of our findings. Without further ado, let's start our PaperHelp.org review!
Products and Services You Will Find
Paper Help focuses almost exclusively on academic writing products. It offers a full range of these, from basic essays and papers through college level writing, such as case studies and research proposals, and includes thesis and dissertation products as well. Students from high school through Ph.D. programs are served. Other writing/services include coursework assignments, such as math and science problem sets, multiple choice test-taking, resumes, CV's, cover letters, and admissions/scholarship essays.
We were unable to find any services related to re-writing and editing, and no PaperHelp reviews from customers mention having received this service.
The Real Proof – Writer Expertise and Quality of Products
There is absolutely no information about company writers on the site, other than to say they are professionals. Their expertise, in fact, can only be gauged by the quality of products they produce. In evaluating the quality, we looked to the sample essays and papers on the site, to their published testimonials, to customer reviews we found in other places, and through an evaluation of the research paper we received. In general, the following can be stated:
Many of the sample writings did not contain thesis statements in their introductions, and this can be an issue at the college level especially
We also found, in the sample writings, instances of fragments and run-on sentences, as well as punctuation and word usage errors.
Much of the writing in the samples was simplistic and appropriate for the high school level.
Customer testimonials speak very positively about the products received
Customers who provided off-site comments gave mixed reviews about quality
The research paper we received was also a bit simplistic for the university level, and resources were a bit "elementary."
At no time did we find any complaints about delivery. In fact, our paper was delivered right on time. All specific category Paper Help reviews indicate that the company is legitimate.
Now the Money – Prices, Discounts, Payment Methods
PaperHelp prices begin at a standard, average level, at $10/page for a basic high school essay, due in 14 days. From there, however, prices take very hefty jumps, up to $197.00/page at the Ph.D. level with a very short deadline. The pricing chart we found did offer cost of editing and proofreading, but those are not listed in the drop down selection menu on the order form. Admissions essays are a bit pricey - $41/page.
Then, when you scroll down on PaperHelp.org's pricing page, you'll come across some extras. PaperHelp offers some very useful extras, but what's easy to note instantly is that you'll be charged for these extras too. A plagiarism report will cost you $14.99. If you want your order to get priority, it is possible with the VIP customer support extra, but you'll have to pay an additional $14.99. An abstract page will also cost $14.99. If you also want to choose a preferred writer, it'll cost $14.99. Adding charts will cost $9.99, and the same pricing applies if you want an outline. Furthermore, if you want all the sources used to be included, you'll have to pay an extra $4.99. Customers will thus have to be aware of these fees if they're interested in any extra.
Luckily, some PaperHelp coupons can offer the customer a PaperHelp discount. In terms of PaperHelp.org discounts, there is a plan which provides for 5% off of any order that totals more than $500 and 10% off of any order that totals more than $1000.00 Other than these two, there is also offered a PaperHelp coupon code for a 10% discount for a first-time customer on his/her first order.
We could not find and paper Help promo codes or any mention of special sale pricing that might occur at other times. It's not exactly pleasant that there is no sight of any other PaperHelp promo code, since the target is students who might not have enough funds for a longer essay.
The paper we ordered was an 8-page university level work, and the price was $160.00, higher than average in comparison to other writing services. With our 10% discount, the final cost was $144.00, still higher than most others. At the same time, we do not consider it inadequate, considering we went for a university assignment. The PaperHelp discount code helped a lot.
Payment methods are through any major bank card and PayPal. Methods are secure and Trust Guard is used to process payments. It is a reputable 3rd party processor used by many online retailers.
The Good, the Bad, the Beautiful, the Ugly
Among the good and beautiful, this company does provide the products and services it claims to provide. There are certain guarantees in place that are meant to help and protect the customer. The best guarantees to take note of are the Money Back Guarantee and the confidentiality guarantee.
Not only will your information and request stay private, but you can also get your money back if you are not pleased with the services. A refund will be granted in several scenarios. If you received a plagiarized paper, if they are late with the paper, if a mistake was made and you made a double payment, or if no writer is found for your assignment, you can get a full refund.
Other than that, you can cancel the order when less than half of the deadline passed and get a 70% refund. In other situations, you can only get a 50% refund. If the order was approved, then a refund is not an option.
Further, ordered products are delivered on time. Other good features include:
Customer-writer communication
Customer service center open 24 hours a day
All types of academic writing are available
Among the bad and the ugly, first and foremost we would state that the quality of written product could be improved, perhaps by an editing staff that would review what has been produced before delivery to a client, or some PaperHelp Chegg help to avoid potentially plagiarizing by mistake. Among other concerns are the following:
The extras that are usually provided for free by other services are all fee-based. For example, a table of contents will cost an additional $9.99
If a customer wished to have his/her product reviewed for quality before delivery, there is an additional fee – most services have editorial reviews as a part of their normal processes.
There is a pretty high number of negative PaperHelp reviews. While these reviews do not reflect the experience of every single customer, they cannot be ignored. Every bad PaperHelp review shows the company needs to work harder to make improvements.
Overall, we would state that this company is provide legitimate writing services, although its quality and pricing provide some concerns. The PaperHelp.org reviews contain both mixed and positive opinions, and it's hard to ignore the displeased customers. On top of that, there should be more PaperHelp coupon code options, and more information about the writers, among other concerns. Our summary PaperHelp.org rating is "Fair."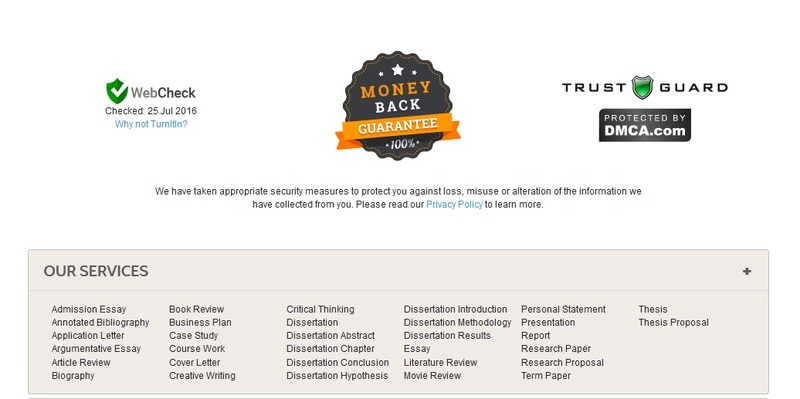 Paper Help Customers' Reviews
(33)