PhDEssay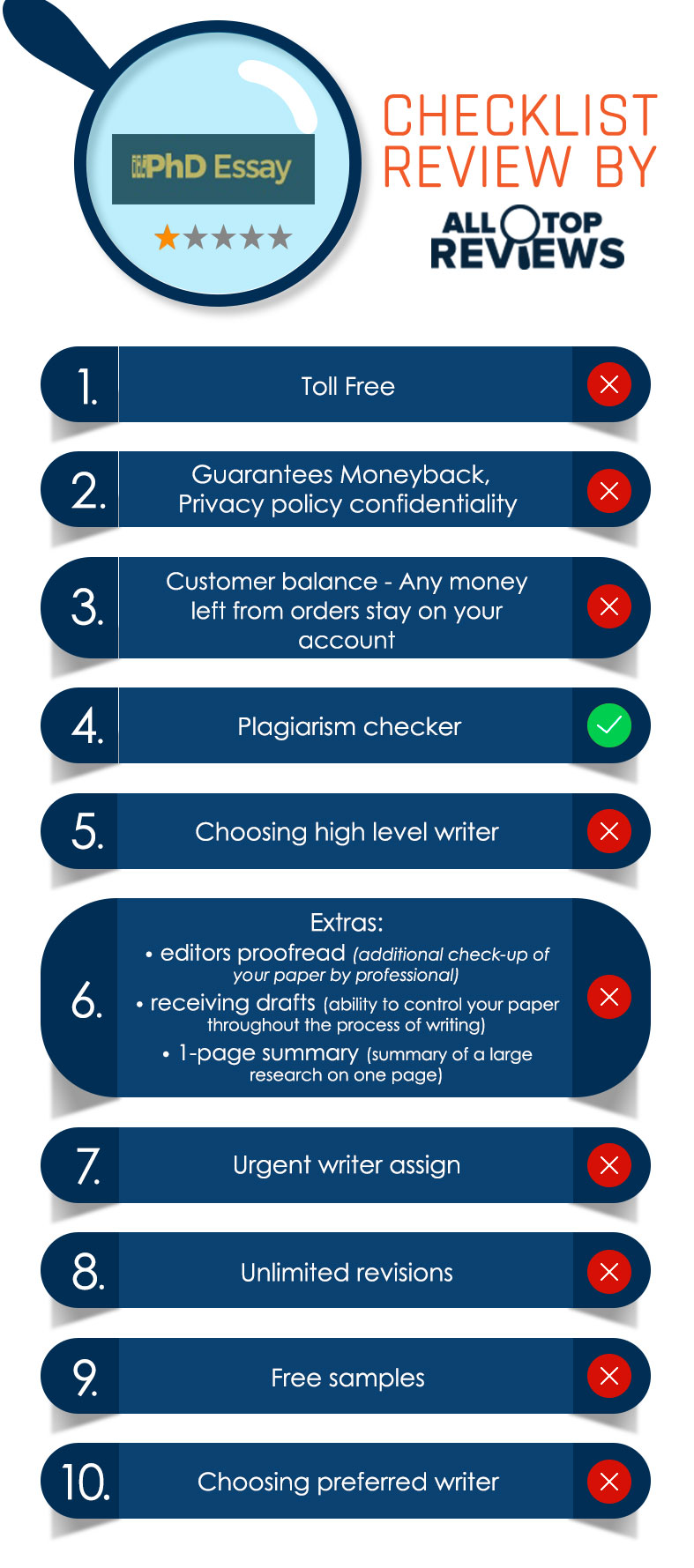 PhDEssay.com is an American-based writing company that is a bit different than most services we have reviewed. We are conducting this PhDEssay review as a result of several requests by our site users who have concerns about the company and its practices. In preparing this summary of the company and its services, we have reviewed all of the site content; we have read all of the on-site PhD Essay testimonials; we have searched and found PhD Essay reviews posted on other review sites and social media; we looked at policies, guarantees, pricing, and the on-site blog. And we ordered a short research paper to see for ourselves just what kind f customer service and quality is provided.
Products and Services You Will Find
PhD Essay offers a very different kind of service to students. It has a large database of free essays and papers which students can choose to download; it also offers to re-write any essay or paper a student may want to use. Both of these are horrible risky activities, and we would never recommend a student do this.
In addition to its database, the company also offers original academic writing products which students can order. It claims to have qualified researchers and writers to complete them.
The Real Proof – Writer Experience and Quality of Products
We were able to find a number of PhDEssay reviews on the web, but none were positive. Well, let us qualify that. Students did state that they were able to find essays and papers on topics they needed. However, they also stated that they were not really good examples because the resources were outdated and the writing pretty poor.
Students who selected essays or papers from the database and then asked for one of the company's writers to re-write them so that they would be original stated that the re-writes were poorly done and their own plagiarism scans pointed out plagiarized parts.
The quality of original writing did not fare much better with customer comments and feedback.
The paper we ordered was delivered on time, but that is the most positive thing we can say. Resources were old and outdated, and the writing was clearly completed by a writer who was not native English-speaking. We suspected that the piece may have been a re-write of one that is in the company database.
Now the Money – Prices, Discounts, Payment Methods
PhDEssay prices begin at $13.90 per page for re-writes and move up from there. The 8-page "original" piece we ordered with a 7-day deadline was priced at $148.20. We did contact customer support through their messaging system to ask about a PhD Essay discount for new customers, but were told that PhDEssay.com discounts were not given. Students should not look for any type of PhDEssay coupon code or any PhD Essay promo codes – they do not exist.
Payment methods are via credit cards, and a third-party processor is used. They are safe.
The Good, the Bad, the Beautiful, the Ugly
There is not much good to say about this company. In our opinion, it puts students in very risky positions by offering its free database and even by offering to re-write one of those essays or papers. The original writing feature is inferior too. Our PhD.com review is not a good one, for obvious reasons. We recommend that students avoid using it. Overall, our PhDEssay.com rating is "poor."
PhDEssay Customers' Reviews
(14)