Bid 4 Papers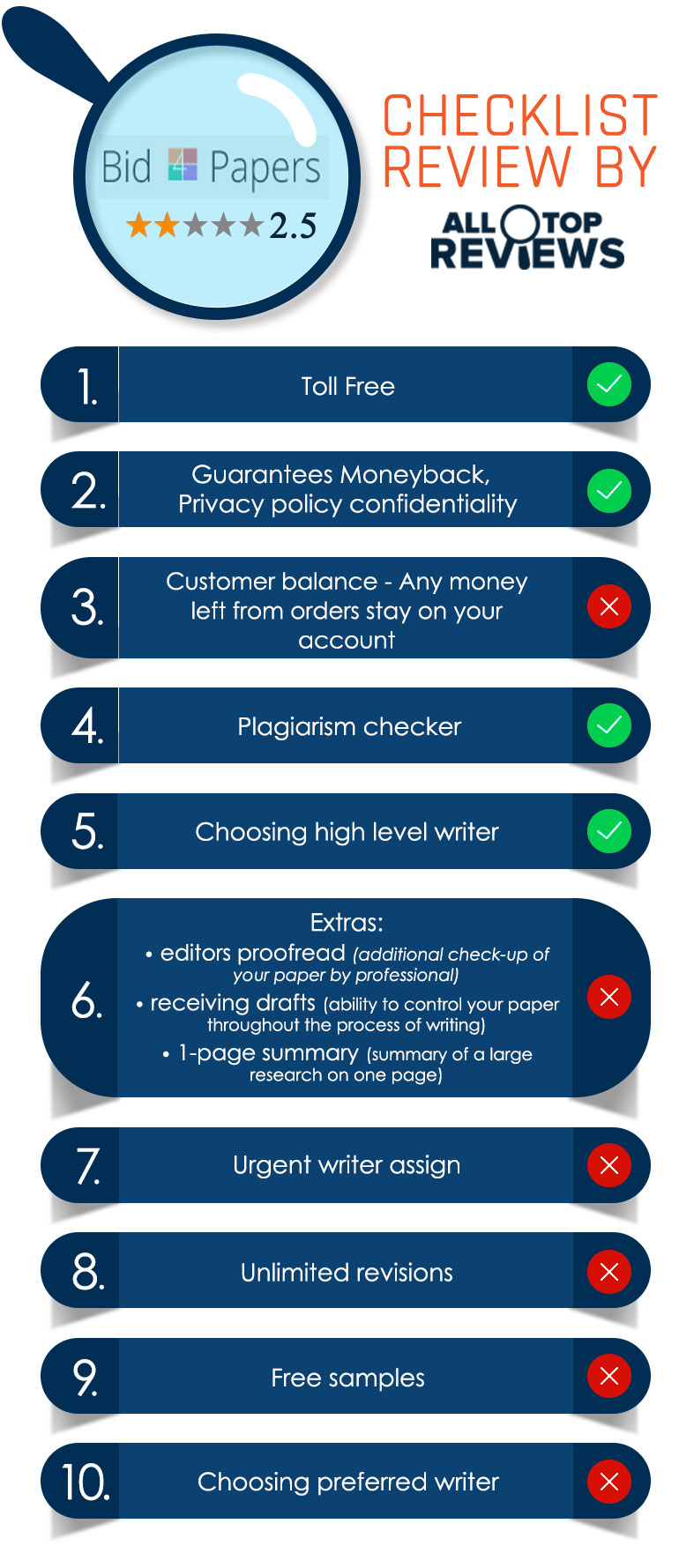 A number of students have contacted us regarding Bid4Papers.com. Either they were considering using this writing service or had comments about the company and their experiences with it. We thus decided to conduct a Bid4Papers review using the criteria that we use when we review and make recommendations regarding all services we evaluate. Factors that are included are our review of the website itself and its statement of services and other content, the on-site Bid 4 Papers testimonials, our experience with placing and receiving an order, and the information we find on other review sites and social media. We also researched the company's reputation online and did not find any evidence of legal complaints or fraud.

Products and Service You Will Find
Bid 4 Papers focuses solely on college academic writing, although we suspect that they complete orders for high school students as well. They advertise that their writers all possess at least a Bachelor's degree, but most services use writers with graduate degrees for college-level writing.
Nonetheless, all forms of academic writing are offered, through thesis and dissertation work. As well, they provide editing and rewriting, homework completion, and admissions essays. Our Bid4Papers.com review concludes that the company does provide the normal array of products and services we would expect from a writing service. Can this service be trusted? Keep reading to learn more about our experiences.
The Real Proof – Writer Experience and Quality of Products
We went into this evaluative task after having received some poor bid 4 Papers reviews from some of their customers. Complaints ranged from lack of communication to poor writing to not getting refunds when papers did not meet expectations. This information certainly calls into question whether or not this is a reliable academic writing service.
In order to gauge quality, we first reviewed the content on the site itself. The company has a bidding process for orders. Sometimes this can be quite effective, but in this case, there is no way to determine the educational or writing backgrounds of those who are bidding. This is of major concern.
The content on the site itself, as well as the blog posts, contain a number of grammatical errors. As well, when we chatted with some of the writers who bid on our research paper, it was clear that English was not their native language. We spoke with a student who ordered an 8-page paper and took a bid from a writer whose English was the best we could find. When we received the paper, it reflected the same complaints that others have voiced. It would not have received a good grade had it been submitted to any college instructor. In short Bid4Papers reviews that we had received were substantiated by our experience.
There is good news for students who use this service, and like the writer that they work with. You may work directly with writers that you request.
Now the Money – Prices, Discounts, Payment Methods
There is no set cost structure, but the Bid4Papers prices we were quoted by bidders fell within the average range for the industry. Obviously, with a bidding model, there are no Bid 4 Papers promo codes on the site. And while there was a method of signing up for a newsletter subscription, there was no promise of a Bid4Papers coupon code for doing so.
While there are not Bid4Papers.com discounts offered by the company itself, there was an indication that individual writers might be "talked into" offering discounts, but that was a matter strictly between the customer and the chosen writer. No writer with whom we chatted before making our selection offered a Bid 4 Papers discount.
Secured payment methods are available. This includes the expected standards of PayPal as well as debit and credit cards. We believe that students are generally safe making payment here, but should exercise the standard precautions that they would place orders on any website.
We should note that in determining whether or not students need to be concerned with their personal information, we read the company's policies on privacy, refunds, and cookies. These were all very detailed. We can say that the company is GDPR compliant. Students can request that their data be deleted by contacting the company's data protection officer. There are also very clear policies on the use of cookies. 
The Good, the Bad, the Beautiful, the Ugly
Bid 4 Papers has only been in business for 3 years, yet it boasts over 1200 writers. This could be possible; however, one student reported a troubling issue. Their initial paper order was in psychology. Then, they placed another order for a physics paper and the same writers were bidding on it as well. They canceled that order, but it is hard to believe that so many writers would have degrees in both content fields. And this is really the problem. There is no quality control on the part of the company. It appears as if writers can simply claim expertise in any field, and little to nothing is done to verify these claims. Further, while communication is established between customer and writer, the method of contact with the customer support department is via email. There is no phone number. Given all of these factors, our Bid4Papers.com rating at this time is "Poor." Perhaps with time, the company will refine and improve its quality. We will revisit the service in another year or so.
Bid 4 Papers Customers' Reviews
(29)