The Uni Tutor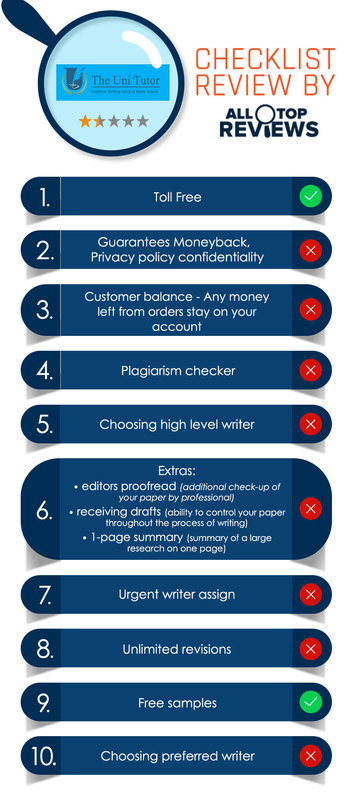 The Uni Tutor states that it has been in business since 2002. We have been able to find The Uni Tutor reviews on the web dating back to 2009. In preparing this summary, we have looked at all of the website content, The Uni tutor testimonials posted on the site, TheUniTutor reviews we were able to find on other review sites and other places on the web, a review of samples writings, prices, and other features. We also ordered a one-page essay at the undergraduate level, in order to evaluate quality of writing. What follows is our TheUniTutor review.
Products and Services You Will Find
The company provides writing products and services to students in English-speaking colleges and universities, in the UK, U.S., Canada, and Australia – undergraduate and graduate. These include everything from essays and papers, all the way through theses and dissertations. There is a complete listing of products on the "Get a Free Quote" link. There is also a listing of content fields, and it appears that every academic discipline is "covered."
The Real Proof – Writer Experience and Quality of Products
We reviewed the example writings on the site and did note a number of incorrect use of articles and awkward sentence structure. These hint that perhaps ESL writers are used, although the company states that only native English-speaking academics are used as writers.
We ordered a one-page essay because of the very high prices. It was adequate, at best. There were grammatical errors that, again, hint at an ESL writer. We requested an "A" level grade, which is more expensive, but this would not have merited an A in any college classroom.
TheUniTutor reviews that we found on the web were mixed. Evidently, there is a big difference in writer quality. Some indicated they were pleased, but a number of reviews were critical of writing quality and the level of resources that were used.
Now the Money – Prices, Discounts, Payment Methods
TheUniTutor prices are some of the highest we have ever seen. An 8-page undergraduate level research paper with a request for an "A" grade, was priced at $483. We were pretty shocked by this.
We also spoke with the customer support department about prices, TheUniTutor.com discounts, and information about graduate level products. We were stunned to learn that we could get a complete dissertation in 5 days, at a cost of $24,705. We learned that the company did not offer any The Uni Tutor discount, so do not look for and The Uni Tutor promo codes for special pricing or a TheUniTutor coupon code for new customers. Given the prices, we find this surprising and a bit disappointing.
The Good, the Bad, the Beautiful, the Ugly
There is lots of information about products and services on the site, which is well organized. The worst aspect of this company are its prices – they are almost at the level of being ridiculous, when compared with those of other writing services that offer quality just as good if not better. And, though it advertises 24/7 customer services we were unable to reach anyone via live chat on the weekend. We were told they "were busy" and that we should email instead.
We are giving an overall TheUniTutor.com rating of "Fair." If only because of the pricing, we cannot recommend it.
The Uni Tutor Customers' Reviews
(14)