Why You Should Get the Team To Work With Your Project
Posted by Amanda

April 01, 2016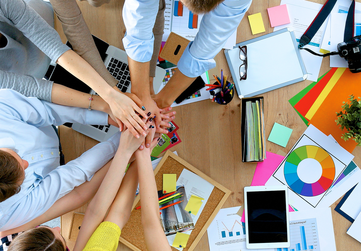 Feeling All Alone with a Project? How to Get Workers to Function as a Team!
It never fails. There is a big project that needs the collaboration of a team, and you find yourself being the director, the producer, and the actor on the stage of a production that needs contribution from everyone in the office. This is when teamwork skills come in handy, but not everyone has them.
The importance of teamwork in the workplace is parallel to good production. It is always important to employers to have employees who can think on their own, but it is even more important that they can be a part of a team that is able to accept the ideas of others whose ideas are equally as important as theirs.
Building your Team
Teamwork builds a company's productivity and cuts lost time in knowledge development: "The Center for Creative Leadership in San Diego reports that companies whose leadership was rated high in ethics, employee motivation, employee development and communication enjoy 20% higher profits. Employee replacement costs range from $5,700 to $50,000 per person," (The Foster Network & The Magic of Teamwork: Proven Principles of Building a Winning Team by Pat Williams)
Competition can be vicious, and in an economy that is suffering a downturn, the need for teamwork and collaboration is essential. Outstanding product development involves being able to keep up with a blazing-fast changing marketplace. Great product development means being able to have ace-in-the-hole teamwork and contribution to successfully develop ideas and deliver- quickly.
The following quotes are from various famous names who themselves depended on others than themselves to accomplish greatness, shows the importance of teamwork:
1) "Individual commitment to a group effort - that is what makes a team work, a company work, a society work, a civilization work."
- Vince Lombardi, football coach
2) "Coming together is a beginning. Keeping together is progress. Working together is success."
- Henry Ford, pioneer of the assembly-line production method
3) "There is no such thing as a self-made man. You will reach your goals only with the help of others."
- George Shinn, former owner of Charlotte, now New Orleans, Hornets basketball team
4) "It is amazing what can be accomplished when nobody cares about who gets the credit."
- Robert Yates, politician in the 1700s
5) "Teamwork divides the task and multiplies the success."
- Author Unknown
6) "I am a member of a team, and I rely on the team, I defer to it and sacrifice for it, because the team, not the
individual, is the ultimate champion."
- Mia Hamm, retired American soccer player
7) "Talent wins games, but teamwork and intelligence wins championships."
- Michael Jordan, former American basketball player, businessman and majority owner of the Charlotte Bobcats
8) "Alone we can do so little; together we can do so much."
- Helen Keller, American author, political activist, lecturer, and the first deafblind person to earn a Bachelor of Arts degree
9) "The strength of the team is each individual member...the strength of each member is the team."
- Phil Jackson, widely considered one of the greatest coaches in the history of the NBA
10) "Unity is strength... when there is teamwork and collaboration, wonderful things can be achieved."
- Mattie Stefanik, advocate on behalf of peace, people with disabilities, and children with life-threatening conditions who died one month before his 14th birthday
11) "Lots of people want to ride with you in the limo, but what you want is someone who will take the bus with you when
the limo breaks down."
- Oprah Winfrey, American television host, actress, producer, and philanthropist
12) "Finding good players is easy. Getting them to play as a team is another story."
- Casey Stengel, baseball hall of famer
Therefore, if you find yourself in the middle of a project that needs more than your input to become successful, why not be the one that gets the team motivated to work together. Ask for help from others, call a meeting and be the one that stands on your soapbox to bring attention to the fact that no man is an island. If necessary, be the one that approaches your boss to say that you think that the office would benefit from having a teambuilding symposium. Before doing that, do your research and find some businesses online that may offer these types of trainings that would be of help to your boss like for instance.