EduZaurus
Eduzaurus.com is probably a relatively new writing service, although we have no exact information. We asked the customer support desk via live chat and received an answer of "quite long." We are not certain that is correct, as we can only find Edu Zaurus reviews on the web going back about one year. This EduZaurus review has been compiled from information we have gathered through the content on the website, from Edu Zaurus testimonials that customers have posted on writers' profiles, from customer reviews and feedback published on the web, and from our own experience hiring a writer and receiving a university-level research paper from a writer we selected. We also looked at pricing, EduZaurus.com discounts, and any other benefits the company offers. This Eduzaurus.com review is the result of these factors.
Products and Services You Will Find
EduZaurus.com offers only academic writing products – essays, papers, reports, reviews, theses, dissertations, etc., for students at any academic level. The business model is as follows:
Customers enter their order information by completing the fields in the ordering process
Customers can ask questions through a customer support live chat feature
Once the order is submitted, available writers are showed, with bids, and other information, such as how many orders they have fulfilled.
Clicking on a "writer profile" will provide the customer with more information about how many projects have been completed as well as customer feedback.
Based upon the bid and previous customer comments, the customer will select a writer.
If a customer wishes, he can have the company staff pick a writer for an additional $10.00.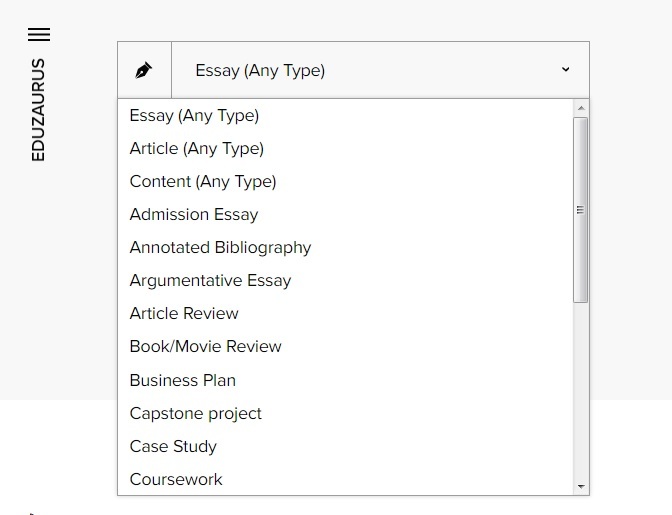 The Real Proof – Writer Experience and Quality
There is no information on the writers from which customer choose. The "Profile" link below each writer's photo (some of these are stock photos) does not provide anything other than the number of orders filled, the titles of the latest three orders, and customer comments. Some of the titles were in poor English.
To decide quality, we had to use the EduZaurus reviews we could find on the web and the evaluation of the research paper we ordered.
Reviews found on social media and other review websites are not complimentary. There are complaints about the poor English composition and tardiness in replying when revisions are requested.
The research paper we ordered had many composition issues and errors – incomplete sentences, wrong word use, and lack of a thesis statement.
There is a hamburger menu on the site with a link to a blog and articles about the types of products offered. The grammar and composition is very poor – if written by the company's writers, they are some of the worst in the business.
Now the Money – Prices, Discounts, Payment Methods
Customers will not find any Edu Zaurus discount, not even EduZaurus promo codes for new customers. This is to be expected when the model is one of writer bids. The same goes for Edu Zaurus coupon code offers for discounts – they do not exist.
EduZaurus prices are high. An 8-page research paper which has an average cost of between $135 - $160 from other services, was bid between $224 and $277 by interested writers.
Payment methods are secure and by all major credit cards of PayPal. We felt safe disclosing our financial information.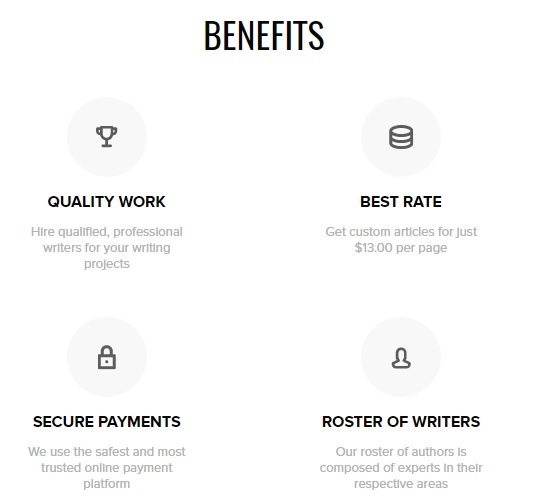 What if You Need Help? Can You Find It Easily?
There is a live chat feature and an email address to contact customer support. There is no address or phone number. We did contact customer support by live chat on two occasions. In response to some specific questions, we were told to complete the order form and then take up those questions with our chosen writer.
We did email customer support to express our dis-satisfaction with the paper we received and were told to discuss it with the writer.
The company states it has a full refund policy, but we could not find it or any other policies on its site. This is cause for some concern.
The Good, the Bad, the Beautiful, the Ugly
We have a number of concerns about this company. The most critical aspect of any writing service is writing quality, and it just not there, despite the high prices. Writers are obviously ESL or English-speaking amateurs. Further, dis-satisfied customers will have a hard time getting refunds or responses from customer support. We are assigning an EduZaurus.com rating of "Poor" and cannot recommend it.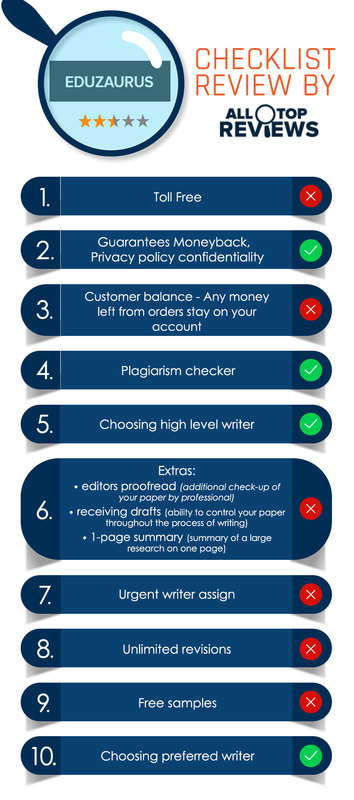 EduZaurus Customers' Reviews
(13)