Green Essay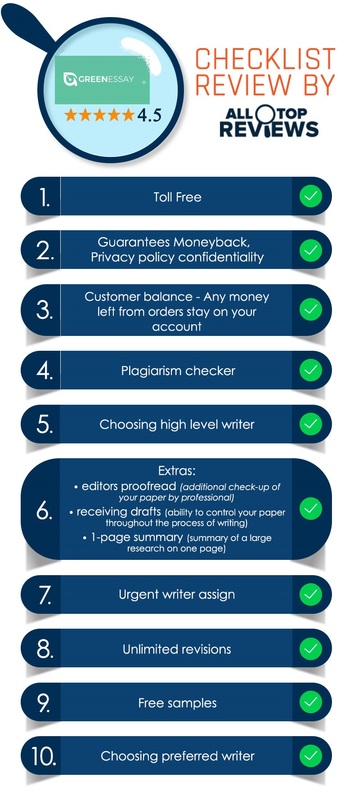 The GreenEssay.com website is, as it says very green. It is reasonably well laid out and all the information is there with the all important pricing section being the first that is seen.
GreenEssay top review ratings have cited the layout of the website as being confusing and although we wouldn't necessarily agree with that we do think that it is a little cluttered.
This service have testimonials on one page of their site and these are just written summaries of people who have used the services - there is no star rating system and all are complimentary and praise the service - treat these with caution as they are on an internal site. It is worth checking out Jabber, GlassDoor, TrustPilot and Manta which are independent sites,too.
Products and Service You Will Find
GreenEssay.com cover all the usual essay services although there is no specific services page which lists what they do. There are about 15 vague titles like Custom Essay and Cheap Essay Writing at the bottom of the page, but no specific subjects or disciplines are mentioned.
Green Essay service reviews mention this lack of clarity in several places.
Customer services are available 24/7 on the chat line.
The Real Proof – Writer Experience and Quality of Products
GreenEssay.com is a little vague about it's writers. Although it has a whole section on them this is quite vague and waffly. It says that there is a background check to ensure that the writers are able to write as they say that writers who cannot write are not a good business model!
There is no information regarding the actual qualifications of the writers or where they are from in terms of country or educational institution. There is certainly no opportunity to pick and choose the writers. There are a series of sample papers in PDF format to look through on various subjects and at various academic levels. They are not downloadable and red only files.
They have review ratings which are pretty dire really - there are very few star ratings above seven.
Now the Money – Prices, Discounts, Payment Methods
GreenEssay have reasonable prices and these are average for the industry. For example, a 10-page essay for a senior college student, with a deadline of 14 days would cost $179.90 before any discounts were applied.
Their reviews are neutral regarding the price structure and neither praise nor castigate this.
Green Essay have a  reasonable discount structure. There is a 15% discount on the first order and then a lifetime system of 5% off after 10 orders, 10% off after 15, and 15% off after 20 such orders.
There are also GreenEssay.com special discounts, for example there was one advertised on the site for "Summer Day" which was giving 20% discount on any orders placed befor June 1st.
The service uses a coupon code system to grant the initial, first order 15% discount and this is redeemable by using the code on the screen - just copy and paste into the initial order form.
Green Essay promo codes do not seem to be available.
Payment can be made by Visa, Mastercard, Maestro, American Express, Discover and PayPal. The site is fully encrypted and secure. No credit card or personal details are divulged to third parties.
The Good, the Bad, the Beautiful, the Ugly
GreenEssay.com seem to be all form and no substance. There are no proper services listed so it is very difficult to tell what they provide aside the fact that they write "essays." The description and lack of qualifications of the writers is a problem as it is not possible to tell whether the writers being engaged in college level papers are Masters or PhD level - it would be nice to know before engaging them!
This service has rating scores that could be a lot better than those shown. If they improved the points mentioned they might be a viable service but in their current form they seem a bit lacking.
Green Essay Customers' Reviews
(2)